It is no secret that Santa Barbara County is home to an impressively vast collection of environmentalists as formidable as you will find anywhere in the country. However, in a plot twist as refreshing as it may be surprising, it isn't from these familiar ranks of professional earth guardians that our singular most impressive and generous act of land preservation in recent memory ​— ​if ever ​— ​comes. Rather, for that, we have to head west to the open spaces of Gaviota and the rolling green hills and oak-tree-dappled land, a roughly Manhattan Island–sized cattle ranch near the intersection of highways 1 and 101 that stretches as far as the eye can see, and Louise Hanson, the woman who calls it home.
In late February, with remarkably little fanfare considering the significance, the 98-year-old Hanson, her heirs, and the folks from the California Rangeland Trust announced a deal that permanently protects every square inch of Hanson's sprawling and mostly untouched 14,000-acre ranch from ever being subdivided, bulldozed, or paved over. In other words, thanks to Louise Hanson, a colorful and occasionally cantankerous cattle rancher originally hailing from Orange County, much of the inland country of Gaviota is going to stay country.
If familiar battle lines are to be believed, such a large-scale preservation power play is anything but typical in ranching/agricultural communities. All too often, long-steeped stereotypes pit the traditional environmental ethos of conservation and preservation against the bottom-line interests of career farmers or cattle operators, the roles of heroes and villains flip-flopping in accordance with the number of Stetson hats in the family closet.
But in truth, the situation is not nearly as adversarial as first-blush judgments may have you believe. After all, a healthy and sustained Mother Earth is paramount to both pursuits ​— ​an unequivocal fact that has never been lost on Hanson. A no-nonsense, straight-talking woman who knows deeply the rewards and rigors of a long day's work, Hanson, interviewed in 1994 as part of the California State University Oral History Program, summed up this truth long before her sizable land dedication would memorialize it in permanence. "I think almost all ranchers are actually part of the environment; we live along with the environment," said Hanson. "I mean, that's part of our life ​— ​to preserve it and take care of it and be a part of it."
When you pull back the curtain of her anything-but-ordinary life, the fact that Hanson, the youngest daughter of celebrated El Toro, California, rancher Lewis Moulton, opted to place her beloved property ​— ​a holding she painstakingly and slowly pieced together by acquiring some eight previously individual Gaviota properties over several years ​— ​in a forever-protected agricultural conservation easement, specifically crafted to make sure the land stays in ranching, comes as no surprise.
Just ask Lunn Courson, one of Hanson's oldest friends from the area and one of the current residents on Hanson's property. "She loves her land and her cattle and her horses. Those are probably three of the biggest things to her, and they always have been," said Courson, who has known Hanson since she relocated to Gaviota in the early 1970s. "When she was still able, she would be out on the land every single day, fixing fences or cleaning water troughs or whatever else job needed to be done," she continued. "She just loves it that much and wanted to make sure that nothing would change [out here] even after she's gone. (Laughs.) She never did like being told what to do with her land."
Hanson knew firsthand the painful fate that awaits when a longtime family ranch gets disassembled and eventually steamrolled by the march of development. The dissolving of her father's nearly 22,000-acre Rancho Niguel, a property that lives on in Orange County lore, was the primary motivator behind Hanson's move to Santa Barbara County with her husband Ivar more than 30 years ago. It no doubt underscored her decision ​— ​there was no financial incentive or motivation ​— ​to overlay her own ranch with a binding conservation easement as part of her estate planning. "We started moving in 1968," remembered Hanson in her oral history. "The El Toro area was becoming too crowded and the taxes too high. There was no more room to really ranch, and so we moved. … I finally got everything up [in S.B. County] by 1972, where I was lucky enough to find ranching country very much like old Orange County. … I've been here ever since. It's a beautiful place."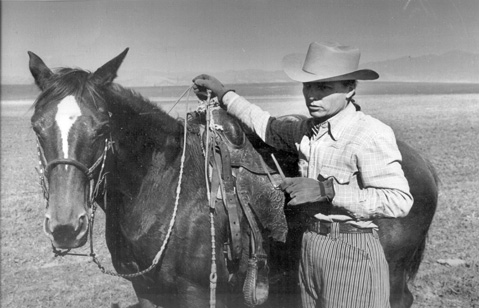 courtesy Santa Ynez Valley Historical Museum