After crashing through dry stalks of fennel, gingerly stepping over clumps of poison oak, and dodging branches of lemonade berry, Geoff Rusack crouched beneath a canopy of scrub oak, looked toward the sky, and pointed at a leafy green vine clinging to the top of a willow tree.
"That's a zinfandel vine right there," said the 57-year-old vintner with a boyish grin, happy to spend a spring morning trouncing through the foothills of Santa Cruz Island, the biggest of Southern California's Channel Islands. "It's crazy how this survives out here."
One of only four grapevines known to exist on the island, the hidden zin is a remnant of when this remote, 97-square-mile chunk of land off the Santa Barbara coast was home to a sprawling, thriving vineyard. First planted in 1884, the grapes were processed by renowned wineries throughout California ​— ​including under the Santa Cruz Island Wine label until it shut down in 1918 ​— ​and the estimated 200-acre vineyard even kept pumping through Prohibition. But then came the Great Depression, and away went America's desire for fine wine. Following one last harvest in 1932, the vines were left to wither away, although you can still easily spot the vineyard's footprint while flying over the east end of the island's central valley.
Seventy-five years later, along came Rusack and his wife, Alison Wrigley Rusack, probably the only couple on the planet with the wealth, property, and know-how to bring winemaking back to California's Channel Islands. The former aviation attorney's requisite experience comes from 20 years of running Rusack Winery in the Santa Ynez Valley, but Alison is responsible for the rest: Hailing from Chicago's Wrigley family, the former Disney marketing executive inherited a considerable chunk of the chewing-gum company's fortune, including more than 10 percent of Santa Catalina Island, the third largest of the Channel Islands archipelago, located off of the Los Angeles coastline nearly 100 miles south of Santa Cruz Island. The couple hatched the idea for an island winery while riding horses on Catalina during their second date ever in 1983, but it took a quarter-century of planning for that dream to sprout.
Today, while zinfandel is the historic heart of their Catalina Island Vineyard, the couple ​— ​who reside mostly at their Hope Ranch estate ​— ​is also growing pinot noir and chardonnay, this past autumn harvesting more than 11 tons of grapes for their fifth vintage from the five-plus acres of grapes that now surround the family's El Rancho Escondido, which was once the island's main equestrian facility. After five years of learning how to tackle formidable and screwball challenges ​— ​yellow jackets, crickets, mildew, wind, salt, foxes, deer, quail, and even bison have all plagued the grapes, which currently must be hauled in multiple plane flights to Santa Ynez each harvest ​— ​the Rusacks are finally feeling confident that their vineyard will thrive. So they've signed up for even more struggle by updating and rebuilding the old rancho, complete with an on-site winery and tasting room that they hope will become a must-see day trip for tourists staying over the mountain down in Avalon.
Given the decades of planning, the astronomical costs, and the insane logistics required to start a serious agricultural operation in the middle of an island, what the Rusacks are doing at Catalina's El Rancho Escondido represents a Hearst Castle for the 21st century ​— ​certainly not as grandiose in terms of cement poured, architects employed, and expensive art hung, but a monumental undertaking built to last for generations by one of America's tycoon families, and one that reflects the modern world's fascination with how wine can directly connect us to special parts of the earth.
"This is very much a legacy project for us, which Catalina has been all along for my family because we care about it so much," Alison told me last summer, as we walked past construction debris on a hill that overlooks the vineyard and western coast of the island. "Each generation seems to add its mark. We seem to be the building generation," she said, joking that her three sons will probably never go near a contractor again. "As the years go on," she explained, as we looked out over the green rows of grapes, "Catalina is going to be more and more unique because the world is running out of space."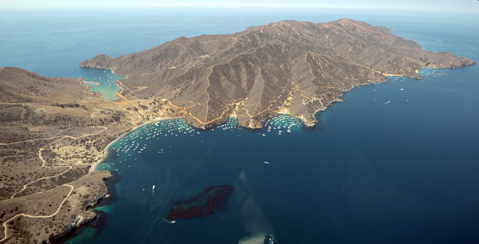 By Paul Wellman