Hike: Steep day hike and scramble up from Rattlesnake Canyon Trail to Tunnel Trail, and return back down Tunnel Connector Trail to Rattlesnake Canyon Trail. Suitable for fit children ages 11 and above.
Mileage: Six-mile roundtrip with steep scrambling and off-trail bushwhacking.
Time: Eight minutes driving to Skofield Park, and about four hours hiking, including a half-hour rest and snack at the "Twin Perch" peaks.
Maps: Ray Ford'sHiker's Guide to the Santa Barbara Frontcountry map (square 2C to 3C) is readable, although he delineates no trail between Rattlesnake Canyon Trail and his "Mission Crags" (my "twin perch"); Craig Carey'sHiking and Backpacking Santa Barbara and Ventura has this on map 6.
Commingling difficult coastal mountain "scrambles" with easier day hikes and more strenuous backpacks has been necessary to keep my outdoor life constantly interesting. The variety these scrambles offer creates more and more mental stimulation, refreshes different body joints, rejuvenates the imagination, restocks memory, and obliges the simple climber/hiker to indulge needed solitude. None of these scrambles, like the one described here to "Twin Perch" (Ray Ford's "Mission Crags"), involve technical climbing, so anyone strong and willing can undertake them. (In earlier columns I described scrambles to La Cumbre Peak and to "Rocky Ridge.")
During this six-mile hike to Twin Perch we begin at Skofield Park, walk north up into the beautiful, steep Rattlesnake Canyon Wilderness Area trail, and after a half-mile or so leave the main trail on a well-gouged spur trail heading northwest (to the left). You will pinpoint this trail shortly after skirting the fragrant pine meadow just above the second creek crossing. An ill-advised 1970s-era Sierra Club plan to stabilize this loose hillside with Japanese black pine and other nonnative conifers has at least managed to hold this slump together for 40 years, but most of the trees are slowly dying.
This narrow footpath is quite obvious and has been recently cleared by trail volunteers, so you simply head upward on it toward the 2,500-foot ridgeline topped out by my fancifully named Twin Perch formation. The trail is well-trodden, and if you choose to go up on the weekend after 9 a.m., there will be several other hikers on the trail, including their ubiquitous and frequently excreting dogs.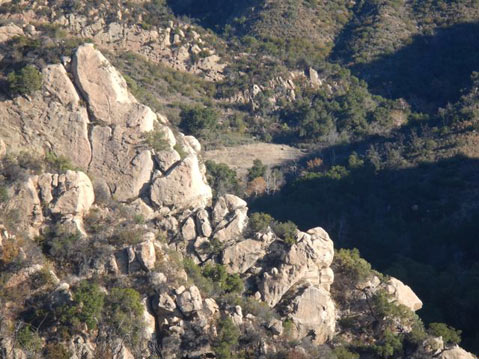 By Dan McCaslin