School just got out for summer, but last Monday morning, a bunch of kids were back in Santa Barbara High's robotics lab, eyes wide open, grins ear to ear, brains working in overdrive as they explored the possibilities of 3d printing. They weren't new to the technology ​— ​it was, after all, a summer camp dedicated to learning about this fastest-growing segment of high-tech hardware ​— ​but this was the first time they, or really anyone, had ever seen the Printeer, the world's first model developed solely to educate and inspire adolescents and teens.
Compared to existing 3d printers ​— ​which tend to be either very expensive, very slow, very technical, or a very dangerous-looking mess of robotics and wires that you must build yourself (or all of the above) ​— ​the Printeer is a sleek, smart blend of colorful hardware and easy-to-use software that takes whatever you sketch on an iPad, kicks it into three dimensions, and then, laying miniscule layer upon miniscule layer of eco-friendly plastic, prints your solid object within about 15 minutes. And all that for the current price of only $550 per printer, compared to the $1,000-$2,000 fetched for popular mass-market versions, which still require an advanced understanding of design programs.
Though now attracting the attention of educators from Japan to Egypt as well as nabbing headlines on newspapers and influential tech websites across the globe, the Printeer is not another success story out of the Silicon Valley. It was developed on Santa Barbara's Westside by a startup company called Mission Street Manufacturing, which was founded almost exactly one year ago by 30-year-old Brian Jaffe, a Portland-raised, Princeton-educated engineer who served five years in the U.S. Navy. "We're not joking when we say kids get excited," said Jaffe last Monday in the lab, smiling at the swarm of children buzzing around him as one teenager's big-headed, cartoony design came out of the machine. "This is what I live for."
Apparently, Jaffe is not the only one. On June 10 of this year, Mission Street Manufacturing unveiled the Printeer via the fundraising website Kickstarter, hoping to raise $50,000 in one month to build the first 100 printers in the Mission Street garage. Almost immediately, the campaign annihilated the target, eclipsing the $50,000 in just eight days and, as of press time, raising more than $100,000. And there's still two weeks to go.
To Jaffe, the global excitement speaks to the just-being-tapped power of the technology. "As humans, we've gotten extremely good at making machines that just do one thing," he said, explaining the disruptive nature of his work. "With 3d printing, we have one machine to make an infinite number of possible things."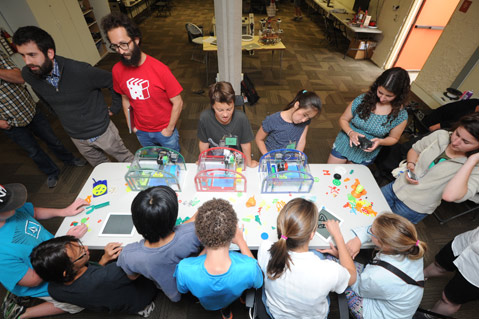 By Paul Wellman