Peter Adam knows how to make a point. The 4th District supervisor, a Tea Party Republican whose district is the county's most conservative, focused his 2012 election bid on saying Santa Barbara needs to better maintain its infrastructure. Since he took his seat on the dais, he has repeatedly tried to rally the Board of Supervisors to funnel more money toward county-owned roads, buildings, and parks, and though he was the lone vote against the budget last June, he convinced his colleagues to tack an extra $2 million to its road maintenance funding.
But that $2 million wasn't enough for him, and Adam advanced his crusade to this year's June 3 ballot, collecting nearly 16,000 signatures in support of what is now known as Measure M, an ordinance that would force the supervisors to pay millions of dollars every year to keep the county's facilities fresh.
Where Adam talks of Measure M fixing potholes, leaky pipes, and vermin infestations, the county's sheriff, district attorney, and four remaining supervisors ​— ​not to mention many other county officials and elected representatives ​— ​worry about it removing the stitches on a still-healing budget. At the height of the recession, the county cut $60 million in costs and axed nearly 600 full-time jobs. It faced a $72 million deficit and struggled over how to pay for jail operations once the North County facility opens in 2018. Now, going into the next fiscal year, the county expects a minor surplus, and multiple departments have worked together to create a delicate plan to save up for the approximately $16 million needed to annually operate both the existing jail on Calle Real and the main portion of the new Santa Maria jail.
"If it sounds too good to be true, it probably is." — Supervisor Steve Lavagnino
Opponents warn that Measure M's potential passage ​— ​and the tens of millions of dollars it would corner ​— ​could upend that balancing act. Because of federal and state mandates, only about $200 million of the county's projected $900 million budget falls under the supervisors' purview and so does the only existing funding available to address Measure M. Public-safety and health-and-human-services departments receive the bulk of that discretionary money and would therefore face the deepest cuts. Opponents state those cuts, higher taxes, and debt are likely to follow passage of the measure. Adam hasn't proposed any specific reductions but said he wouldn't vote to cut public safety, a promise opponents have called impossible to keep.
As it appears on the ballot, Measure M sounds simple: "Shall the County Facilities Maintenance Ordinance requiring the County to keep County owned roads, parks and buildings in their current condition or better be adopted?" But 5th District Supervisor Steve Lavagnino, who agrees with Adam on issues more than anyone else on the dais but diverges sharply from him here, cautioned voters to keep something in mind: "If it sounds too good to be true, it probably is."
M Is for Manageable
The fiscal and legal reviews of the measure espouse similar messages of caution. Auditor-Controller Bob Geis wrote that because funding for programs provided by the county's public-safety and social-services agencies is prescribed by federal and state law, "it may not be possible for the Board of Supervisors to fund the requirements of the ordinance" without new revenue sources.
County Counsel Mike Ghizzoni pointed to a 2006 case out of Ventura County in which a state Court of Appeal struck down an ordinance that obligated that county's board to a minimum budget for public-safety agencies because it tied the board's hands. Measure M could do the same thing, Ghizzoni wrote, stating that it "may not be enforceable if it seriously impairs the board's essential government function of managing the county's financial affairs."
Ghizzoni declined to elaborate on the possibility of Measure M's passage resulting in a lawsuit ​— ​which would cost the county millions of dollars ​— ​but District Attorney Joyce Dudley, who is throwing her political clout into defeating the initiative, said she is "deeply concerned about it from a legal standpoint."
But Adam, bombarded with all of the concerns raised and questions asked by his measure's many naysayers, remains confident in not only its legality but also its necessity. He has likened their reaction to a "conniption fit" and a "temper tantrum."
"They like being able to operate with impunity, and they don't want to answer to the public," he continued. Adam's chief adversaries in this fight include fellow supervisors Salud Carbajal, Janet Wolf, Doreen Farr, and Lavagnino, plus Dudley and Sheriff Bill Brown (Measure M's campaign consultant is shared by Sergeant Sandra Brown, who is challenging Bill Brown for reelection and whom Adam supports).
"Nobody denies we have a problem," Adam said. "Their only suggestion is that we defer the problem."
Other opponents include former North County supervisors Joe Centeno and Joni Gray (whom Adam unseated in 2012, in a surprise victory), as well as former Santa Barbara school board president Lanny Ebenstein and several members of the Goleta and Carpinteria city councils. Behind Adam are former North County supervisors Tom Urbanske and Willy Chamberlin, Solvang Mayor Jim Richardson, and Santa Barbara City Councilmember (and congressional hopeful) Dale Francisco.
Adam has said repeatedly that the measure's strength lies in not mandating a funding source; his opponents say that is the crux of the problem. The measure, which if approved could take effect shortly after June 3, would make the supervisors beholden to the baseline measurements of the county-owned roads (not those owned by the cities or the state), buildings, and parks; if their conditions improve as a result of the upkeep, those better conditions would become the new standard. Incurring debt would only be allowed if the voters approved it at another time. The ordinance wouldn't address the county's $350-million-and-growing backlog of maintenance but would stanch its growth. "Nobody denies we have a problem," Adam said. "Their only suggestion is that we defer the problem."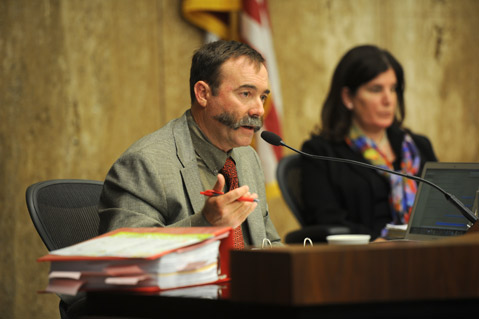 By Paul Wellman (file)