There are two answers to the question why Rudolf (Rudi) Jung fabricates bicycle frames. The first is that he stands a lanky 6'3" tall. While people with bodily dimensions that aren't too far on either extreme of the bell curve can usually find an off-the-shelf bike that fits well, Jung never rode a bike that felt right until he up and made his own. The second reason, and more telling answer, is that Jung is the type of person who, if he grew up in Alaska, would forge his own dogsleds out of used tomato soup cans.
Jung did not grow up in Alaska, however. He grew up a BMX grom in California, and now he races regularly on the SoCal cyclocross circuit. So he builds bikes. When I asked Jim Cadenhead, the owner of Cranky's Bikes on State Street, why he feels comfortable recommending Jung to customers, he referred to Jung as a "savant." Aside from making frames under the moniker Gold Coast Bicycle Manufacturing, Jung paints his bikes himself and etches head badges out of used cymbals. He also restores motorcycles, print-screens T-shirts, and designs his own Gold Coast racing kits, available for sale at Cranky's. "Anything Rudi sets out to do," said Cadenhead, "he learns to do perfectly."
It was Cadenhead who first suggested that I talk to Jung. At first, I blanched. A handmade frame is a worthwhile investment but not a cheap one. Well-regarded builders can easily charge upward of $5,000, to say nothing of all the components necessary to make a fully functional bike. As a relative newcomer, Jung commands more modest prices, but after seeing how much labor he put into the frame that I eventually bought, I actually felt as if I cheated him.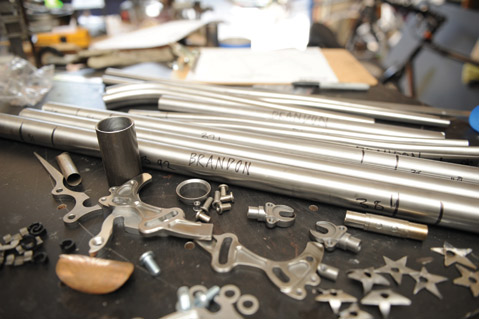 By Paul Wellman