A number of apartment buildings across the street from Santa Barbara City College (SBCC) have become unsanctioned residence halls for students, but there is no supervision. Music blares late from roosting out-of-area students who recently flew their parents' coop. These young people often double and triple up in bedrooms. "There's a bunk bed in a room made out of half of a kitchen," quipped lower Westside resident Beebe Longstreet. Six cars line up in the driveway located next door to her house; many are quite fancy and driven by 18-year-olds.
At times, disturbances surpass juvenile delinquency and are downright violent, neighbors claim. And since Santa Barbara City College enacted a smoking ban in the summer of 2013, cigarette butts litter streets surrounding campus. The area has turned into something of a mini Isla Vista in the past five years or so, neighbors say, as low-income families and young professionals moved out and students moved in. The school promotes 10 complexes on its website, though they are not affiliated with the college.
Unlike the unincorporated land of Isla Vista, which is governed by county law, the city does not have a noise ordinance to specifically address college partying. Police officers can issue tickets pursuant to the Penal Code sections that define disturbing the peace, which includes construction noises or loud music. But officers rarely issue tickets in the neighborhoods near the college, because it requires a complainant to perform a citizen's arrest. So the young adults, not surprisingly, tend not to fear the cops.
Santa Barbara City College has jumped into the spotlight lately because it is asking voters to approve a $288 million facilities bond known as Measure S. Longstreet recently took to the Board of Trustees to voice neighbors' complaints, and a neighborhood task force was created to tackle some of these problems. (The meetings are unrelated to Measure S and will continue after the election regardless of the outcome.) Chaired by Trustee Marty Blum, the task force is made up of 15 police officers, City Hall representatives, students, neighbors, and deans. "We're cautiously optimistic that changes can be made," said neighbor Mark Taylor, who has been involved in this issue for some time. A group similar to the new task force was formed about a year ago, but no apparent progress was made.
The sticking point this time may be that the college hired Daniel Iacofano ​— ​who worked on similar college-city issues in San Francisco ​— ​to facilitate the task force. So far, ideas to mitigate the rambunctious behavior include implementing new noise and nuisance ordinances, requiring additional orientations for students, and redesignating a smoking area on campus. They plan to meet five or so more times by January when they will produce a report to present to the trustees.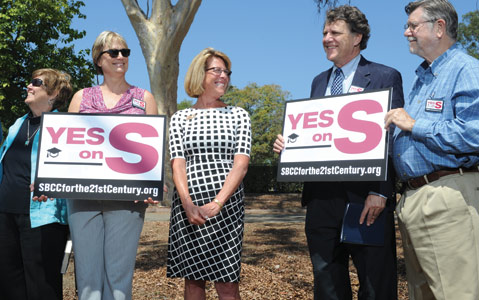 By Paul Wellman (file)