The magic begins well before one walks through the front door of 121 West De la Guerra. Once you step off the street, up the wide staircase, through the courtyard, and down the garden path past the fruit trees and the fountain, you feel miles from the downtown scene you just left behind. I'm told that the architect of this beautiful set of townhomes was aiming for an old Spanish paseo feel, and he more than accomplished that goal. Red-tile roofs are fairly commonplace here in Santa Barbara, but the charm and authenticity of this building is a rarity.
This complex, officially named One Twenty One, sits almost at the corner of Chapala and De la Guerra, a stone's throw from the shops, restaurants, and movie theaters of Paseo Nuevo and the rest of downtown. But its mid-block location plus charming entrance give it a romantic, world-of-its-own feel.
Once through the front door, everything sparkles and shines. Dark wood entryway floors lead into an airy ground floor that combines a gourmet-chef-ready kitchen with a living room whose French doors open onto a private patio. Upstairs, the bright, modern feeling is even more pronounced. The staircase leads to a loft with a balcony that overlooks the garden courtyard below. Not quite a separate bedroom, this space would be a perfect work-from-home office for a creative entrepreneur. The master bedroom is fit for a much larger abode, with a walk-in closet, large bath with double sinks, and another balcony.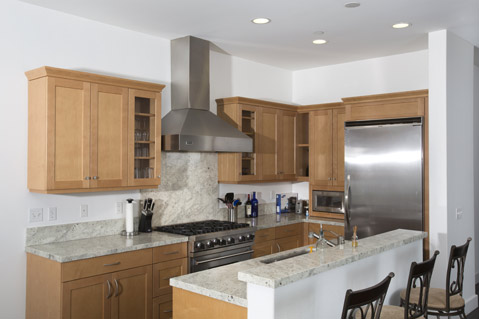 Jesse Kaplan