Ten years ago, the world's most cutting-edge stereo system showed up in my home, offering a glimpse into the digital audio future that today immerses us all. The gray box and oversized, iPod-like remote control was the first product sold by Sonos, which was founded a couple of years earlier in a red-tile-roofed complex just around the corner from my Santa Barbara Street house.
I was writing an article about the new company, which was employing a couple dozen twenty- and thirty-somethings with good-paying, career-track jobs, quite a rarity in Santa Barbara those days. In that era, CDs still ruled the world, streaming music services were nascent, and only your most dedicated or proud pirating friends downloaded much digital music. So it was challenging to describe what Sonos actually did: provide a user-friendly way to listen to all of your digital audio, and even different tracks in different rooms, if you so desired. To let me experience this magic, Sonos lent me a system and a hard drive stacked with music. Within hours of connecting it to my speakers, my friends and I were jostling for control of the remote, scouring for our favorite songs, and interrupting each other's playlists with glee.
We didn't understand exactly how it worked, nor did leading stereo companies that marveled at Sonos's technical wizardry. Yet we immediately recognized that it presented endless and exciting opportunities to entertain our ears with amazing ease. By the time I had to give the system back, we were hooked on Sonos, but the system's $1,200 price tag was way out of our range ​— ​and even harder to justify without owning banks of digital music.
Fast-forward a decade. I'm living with my family in the suburbs, and we're stuck in an audio-starved limbo between inconvenient CDs, temperamental terrestrial radio, and glitch-y apps that come through my phone. Meanwhile, streaming music, podcasts, and radio stations are easy and free, and Sonos starts selling an all-in-one, iPhone-app-powered device called Play:1 that starts at just $200. Sonos quickly invaded our kitchen, garage, living room, and bedrooms, and today I listen to more of everything than ever before, all with a few swipes of the finger.
Much like 2005, Sonos is still the most cutting-edge stereo device on the market and still hires young professionals, who these days are often much younger than I am. But unlike 2005, Sonos now employs more than 400 people locally and about 1,200 worldwide, with offices in Boston, Seattle, Los Angeles, and London; it's becoming a household name, thanks to Super Bowl commercials and rock-star partnerships; it's fighting at least one copycat competitor with a patent lawsuit to stay on top of the niche it created; and it's the gorilla in downtown Santa Barbara's commercial real estate market, soon to be occupying more than five major properties.
As such, the fast-expanding company ​— ​which enjoys an average of 50 percent growth year over year ​— ​is affecting the culture of downtown Santa Barbara in ways that few companies have ever done in the past. Though many techie start-ups are on the rise here today (see independent.com/tech for details on a forthcoming roundup), Sonos was one of the first to bring Ping-Pong into the modern Santa Barbara office, ushering into this region that cubicle-bucking, Google-esque culture that's fascinated many a Silicon Valley observer. The company's employees bring with them the "creative class" promise of a more vibrant economy, helping to keep restaurants and bars abuzz, supporting arts and music, and generally making things a little bit hipper.
But unlike many Santa Barbarans who fell in love with the region first and then fought hard to stick around ​— ​such as Sonos's top visionary and cofounder John MacFarlane ​— ​many Sonos employees are lured here from afar, believing that they, too, will fall in love. I've met many of these newbies and their families around town; some are quickly convinced that this is the place to be, while others are still in that dating phase. And though decidedly a hip place to work led by laid-back executives, no company of global import can escape the trappings of corporate culture, so that's adding a new spice to downtown's historically small-shop work scene. Time will tell if and how these nuances might affect Santa Barbara's relatively tight-knit social fabric, but the net effect of Sonos as a downtown player appears fabulously positive so far.
With all this on my mind, I reached out to Sonos last spring to arrange for a tour of their facilities and an interview with visionary cofounder MacFarlane, who was happy to speak with me back in 2005 when I wrote my first story on the company. When MacFarlane declined, cofounder Craig Shelburne, who currently serves as the company's general counsel, agreed to chat.
Fit, tan, and dressed in a T-shirt and shorts, Shelburne welcomed me to a table in the middle of the open layout of the Sonos office at 614 Chapala Street, inside the old Samy's Camera space. Near a wall covered in Sonos devices and lit by moving purple, pink, and blue-ish lights, Shelburne entertained an hour of my questions as errant Ping-Pong balls bounced sporadically through our legs.
Based on that conversation as well as some insight from MacFarlane I gleaned from the 2005 article, what follows is a three-volume greatest hits Sonos album, from the deep past to the exciting present to the hopeful future. Feel free to fast-forward to your favorite parts, pause for a while on some surprises, and then rewind to read it all over again.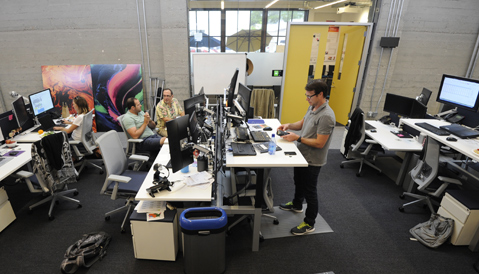 By Paul Wellman