Geodesic domes glow with strings of lights, local artists jam to their own tunes, and community art is displayed along the lawns. On the first Friday of every month, one of Isla Vista's parks — typically around the bottom of the "Loop" downtown — hosts an Isla Vista First Friday — a community-oriented, arts-focused block party that originally emerged from a UCSB class focused on hands-on, I.V.-based projects. As the university and resident groups have begun taking a more active role in influencing I.V.'s culture and directing its ongoings, the town's parks have once again become the stage upon which the community expresses its zeitgeist.
I.V.'s 25 public parks and open spaces, primarily clustered around the Loop, the northwest quarter of town, and along the bluffs, are a stark contrast to the dense and omnipresent urban build-out, yet are as varied in their own arrangements and manicure as the community's residential lots and edifices.
Overseeing the 58 acres of parkland is the Isla Vista Recreation and Park District. Established in 1972, the IVRPD is I.V.'s only elected body and currently the closest thing the town has to its own government. The five-person board, with the help of a grounds-keeping crew and administrative positions, regulates development, oversees park upkeep, and has the power to establish park ordinances that address everything from alcohol consumption to slacklining to pet waste. With its income based on property taxes, the IVRPD operates under a roughly $1.3 million budget.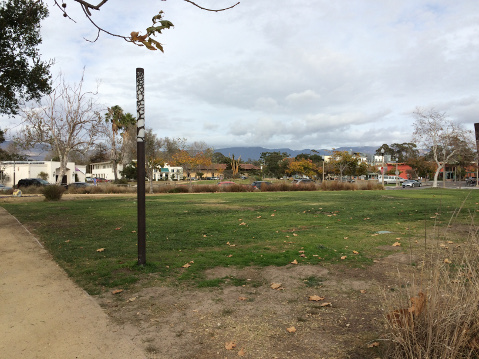 Sam Goldman