Time passes differently on the vast, windswept Guadalupe-Nipomo Dunes. The 22,000 acres of ocean-side dunes, rolling for 18 miles from Point Sal in northern Santa Barbara County all the way to Pismo Beach, shelter a dramatic sandscape seemingly cut off from the rest of the world. Near the small farming town of Guadalupe, itself a time capsule, the remote dunes make for a great destination for families, fishers, birdwatchers, and avid hikers alike to happily lose time.
Daytrippers could consider a trip to Oso Flaco Lake, an easy walk featuring a unique coastal ecosystem. This wheelchair-accessible boardwalk trail requires a $5 parking fee and is open from sunrise to sunset. The trip begins with a passage paralleling Oso Flaco Creek and takes you beneath a sheltering corridor of arroyo willows and wax myrtles bedecked with Spanish moss. The causeway continues to a fork, with the eastward route leading upward to the Oceano Dunes SVRA, where big trucks and ATVs look small upon the vast stretch of sand. A sign tells of mountain lions, known to roam the area.
The trail continues west across a bridge over Oso Flaco Lake. A rare kind of freshwater environment, the lake was formed after a channel of the Santa Maria River changed course in the 1860s. The lake is a great place to view wildlife, especially birds; over 80 species of birds have been recorded in the dunes complex. Just off the trail, ruddy ducks and coots dive and dart beneath the boardwalk, white pelicans sail, and herons stalk the tules and bulrush.
Walkers can turn around at the end of the lake, or continue a little ways farther, where the boardwalk goes slightly uphill before ending, naturally, at the beach. A raised platform affords expansive views of the dunes and the entire San Luis Bay. To the far south, the dunes reach their highest point near Mussel Rock, towering at 500 feet — the highest beach dunes in the western United States. For most, the journey ends where the boardwalk does, and a great day on the beach awaits.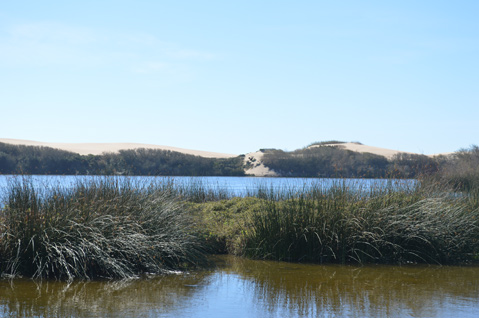 Richie DeMaria