This is Isla Vista: surf and salt air, students on bikes, dogs on skateboards, swimmers on rafts, and across the Channel, the dazzling island view that gives this beach-bluff community its name.
And this is Isla Vista: mega-parties with beer kegs and live bands on the weekend, and thousands of people in the streets, leading to brawls, break-ins, and worse.
Isla Vista has always been a tolerant place. But in the wake of the murder of six UCSB students by a deranged young man last May, the mood is no longer so laid-back. "Party houses" are increasingly under scrutiny as the No. 1 public safety problem in the overcrowded community, and residents want landlords to be part of the solution.
"If the owners of the big party houses would take responsibility for their tenants, they could turn this all around," said Sue Whisenand, a retired principal who holds neighborhood meetings on public safety at her home in Isla Vista. "They shouldn't turn a blind eye to what goes on."
That's the message that Lieutenant Rob Plastino, head of the Isla Vista Foot Patrol, hopes to convey every week by emailing a log of arrests, citations, and detentions, grouped by address, to property owners and management companies that sign up for it.
Isla Vista, the long-neglected stepchild of the county, has been under a microscope since last year's murders, Plastino said, and landlords are no exception. After a slow start 18 months ago, he said, 70 property owners and managers are now signed up to receive the weekly logs. A few have come in to watch videos of parties at their buildings.
"It has definitely ramped up," Plastino said of his email campaign. "I haven't seen it manifest itself in real evictions until recently. Landlords are now working toward making Isla Vista a better place. They're thriving in this community and should have some stake in its well-being."
To help spread the word, the Isla Vista Property Owners Association sent out a bulletin aimed at 1,000 owners and managers titled "The Foot Patrol Needs Our Help." The bulletin advised landlords to ban live music and "loud, unruly, or disturbing partying," send notices of violations to parents, and be prepared to evict tenants, if necessary.
Along the same lines, Santa Barbara City College held a large meeting in April with landlords and property managers, including many from Isla Vista, asking them to include a code of tenant conduct in their lease agreements with City College students. By signing, tenants agree that landlords may report violations to college administrators.
But sometimes the trouble spills over from next door. Peter Neushul, a UCSB graduate, UCSB history teacher, and longtime Isla Vista resident, recently watched a Foot Patrol video of a live band party at 6614 Del Playa that overflowed onto his rental property. His tenants called the police, Neushul said.
"There was a live band playing, and a large group of people were on the roof of my house jumping up and down to the music, and it was disturbing," he said. "We are a very forgiving place, but there need to be limits. I.V. has always been a bohemian, exciting town, a wild place  ​— ​but did the parties involve 500 people and the kinds of arrests we're seeing now?"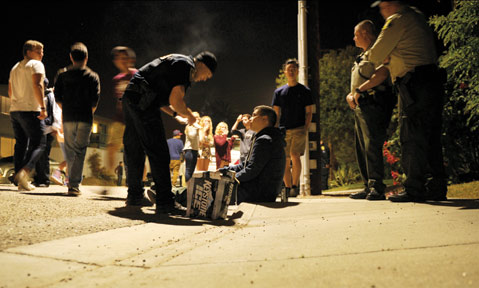 By Paul Wellman