Lena Terry remembers seeing her future husband speak from the pulpit for the first time, when she was new to Santa Barbara and searching for a church. Friendship Baptist sounded most inviting, and that's where she found Keith Terry giving a sermon titled "That Was Then, This Is Now." That phrase, it turns out, could serve as a tagline for Keith's entire existence.
Today, from a cramped office adorned with posters of César Chávez, Malcolm X, and Martin Luther King Jr., behind that same church on the corner of Cota and Milpas streets, Keith Terry runs a nonprofit called YStrive, which offers educational opportunities and job-training skills for the riskiest of at-risk youth. "We take young people who other programs won't take or can't take, and we help them reach their goals with education and employment," said Terry. In other words, when everybody else has given up on these kids, Terry finds the power to forgive.
It took time for Lena to feel that way again after the night of December 30, 2009, when a 15-year-old attempted to rob her two sons in Palmdale as part of a gang initiation. When her older son spoke back, the robber executed him with a shotgun blast to the head. Lena couldn't bear the thought of associating with gang members herself, but Keith's seemingly superhuman power to withhold judgment is quite contagious. Lena has not reprised her role leading a women's group at YStrive, but she serves on the board and occasionally counsels young women on an individual basis. "When dealing with young people," she said, "I try to focus on what is, not what was."
Though theology has no real place in YStrive, I imagined that such a trait must be rooted in Terry's faith, so I paid a visit to Friendship Baptist one Sunday in March to watch Terry preach. It was the type of sermon you might expect to hear in any church, but Terry's delivery is artful, his voice trailing off into a quiver toward the end of his most pitched sentences, almost as if he is about to cry — a quality reminiscent of Martin Luther King Jr., who also happened to be a Baptist preacher. And like MLK, Terry finds inspiration for social movements from his spiritual life, evidenced by his increasing role in the Pro-Youth Coalition meetings and presence in Black Lives Matter protests.

By the end, the sermon did shed a bit of light into Terry's secular YStrive work. He reflected critically on the simple threshold of getting to heaven by accepting Jesus as one's savior, expressing the opinion that if one truly loves Jesus, that faith will be manifest through good works. "If you love someone," he said, "there are things you will do out of compassion."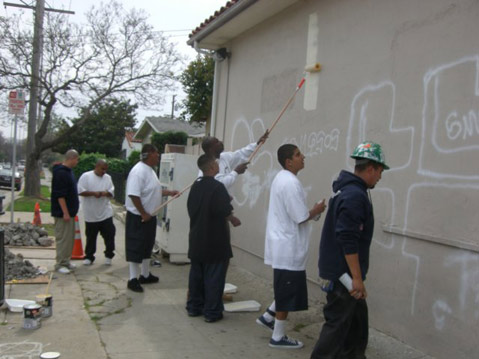 By Courtesy Photo