This past Thanksgiving, while everyone was enjoying turkey feasts, the Santa Barbara Zoo's two Asian elephants, Sujatha and Little Mac, were munching on their own holiday treats: pumpkins. "This type of enrichment provides physiological and psychological stimulation," said Sheri Horiszny, director of animal care, about the zoo's 7th Annual Pumpkin Smash. "Having new things to experience is really good for them."
Traditionally closed on Thanksgiving and Christmas, the zoo began opening its doors on the holidays eight years ago because the animal keepers were already there. For the Thanksgiving Day smash, pumpkins are placed around the elephant's habitat, where they can lumber around smashing, playing, and eating the orange squash. Since the elephants, who are both in their forties, are usually on a strict diet, the pumpkins provide a great treat, as well as entertainment for the zoo's holiday visitors.
Other animals also get Thanksgiving-themed treats, including this year's frozen cranberry and fish treat for Katniss and Peeta, two Asian small-clawed otters.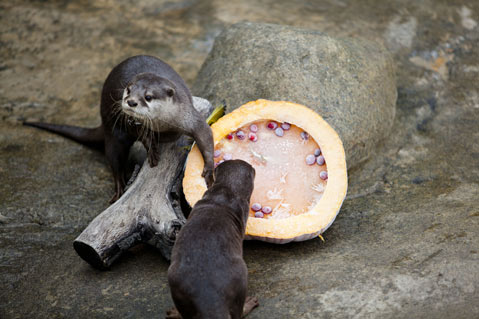 By Caitlin Fitch