During this week of our town's Mexican-food-soaked Fiesta, we present this report from the founder of Santa Barbara Tamales-To-Go, who is in Mexico City working on the forthcoming book A Visitor's Guide to Mexico City Street Food.
When the Spanish arrived in the 15th century, they were amazed to find so many ready-to-eat foods on the streets of Mexico City. They called them antojitos, or "little cravings." Today, the city's tradition of street food remains strong, and it's estimated that 75 percent of the residents eat on the street at least once a week. Here are some of my favorites.
Torta Ahogada: In 1910, when a Guadalajara street vendor accidentally dropped his customer's torta into a pot of sauce, this "drowned sandwich" was born. Mexico City's version features chunks of braised pork stuffed inside a crunchy birote roll and then bathed in a savory sauce spiced with chiles de árbol, clove, cinnamon, and cumin. So messy but so wonderful.
Tlacoyo: As a tamale chef who works with corn masa, I was immediately curious when I saw my first tlacoyo, a midnight-blue, torpedo-shaped patty which translates to "snack" in the Aztec language, Nahuatl. The well-made tlacoyo is crisp on the outside with a creamy interior. Blue corn masa is used most often, and the patty is stuffed with either bean paste or cheese. Though eaten without toppings in most parts of Mexico, Mexico City residents decorate theirs with diced nopales (cactus), crumbly cotija cheese, salsa, cilantro, and raw onions. Almost all tlacoyo stands are one-person operations run by women.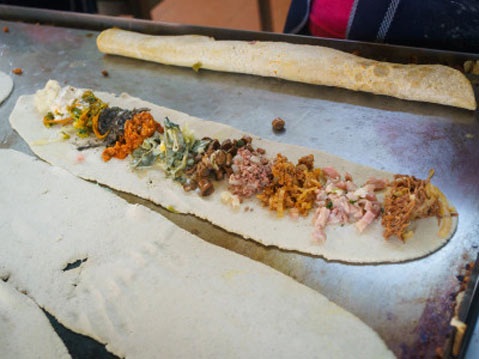 By Courtesy Photo