[Update, 10:40 p.m.]: The fire has grown to 600 acres, with 20 percent containment. Into the late night hours on Thursday, officials said, weather conditions remained good. The county's Joint Information Center closed, but will reopen at 6 a.m. on Friday if necessary. The shelter at San Marcos High School closed while the one at Santa Ynez High School stayed open.
[Update, 8:53 p.m.]: Highway 154 is now open in both directions. Paradise Road remains closed.
[Update, 6:49 p.m.]: At about 6:30 p.m., Santa Barbara County Fire spokesperson Mike Eliason reported that the fire was holding at about 500 acres with zero percent containment. Currently, 200 personnel are on scene. Twenty-five engines, four hand crews, two dozers, three water tenders, four air tankers, and one DC-10 responded, with more resources on the way.
"It has been burning north and west away from the Santa Ynez riverbed," Eliason said, "which is a good thing. The further it burns out to country and the winds shift, the bigger the black box it is going to be to burn back on itself." Like last night, humidity is expected to go up, he said.
Though Eliason stated it was still under investigation, the fire started at the White Rock campground, near where an oak tree fell, knocking over power lines.
Three hundred people along the Paradise Road corridor have been evacuated as well as another 300 from Los Prietos Boys Camp. Two evacuation centers, including San Marcos High School (4750 Hollister Ave.) and Santa Ynez High School (2975 E. Hwy 246) were set up. For assistance with animal evacuations, residents can call (805) 681-4332.
Highway 154 remains shut down except for residents. Santa Barbara County and Los Padres National Forest formed a Unified Command. The county's Emergency Operations Center has not been activated.
[Update, 4:54 p.m.]: The fire has grown to 300 acres. Highway 154 is now closed in both directions between Highway 246 at the roundabout near Santa Ynez and Cathedral Oaks/SR 192 in Santa Barbara. There is no estimate when it will reopen. Motorists traveling in both directions are being directed to Highway 101 as a detour. All campsites have been cleared of visitors.
updated 5:07 p.m., 8/25
| | | | |
| --- | --- | --- | --- |
| Incident: Rey Fire | 8/18, 2:59 p.m. | 39% | 31,505 acres |
Paradise Road campgrounds and Los Prietos Boys Camp
Paradise Road (now open to residents), East Camino Cielo Road between Painted Cave Road and Gibralter Road
Low-pressure system expected to bring cooler temperatures tonight and tomorrow
[Update, 4:41 p.m.]:"The good news is the fire is burning a lot of brush," says reporter Ray Ford. "If it did shift, it wouldn't have fuel." Ford estimated the winds were currently blowing at 20 mph. He said at least two jets, 30-40 fire engines each with five-person crews, and several small planes have responded. "At this point, Santa Barbara is not in danger," Ray said. "That could change if the winds shift."
[Update, 4:29 p.m.]: The incident has been officially named the Rey Fire, for Rancho San Fernando Rey near where the blaze began. Some of the ranch's buildings are under threat. They are the only structures currently at risk. Multiple downed power lines have been reported in the area. Firefighting personnel continue to arrive on the scene.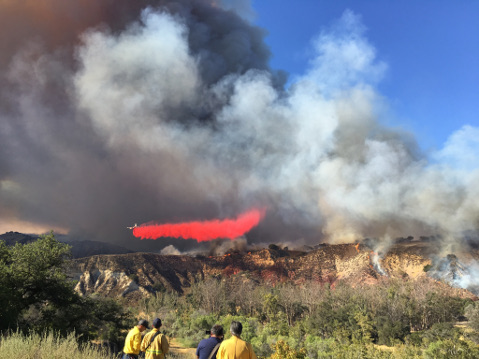 By Ray Ford