On Monday it was anybody's guess which way the Rey Fire would head. During the first few days of the fire, now marking its fifth day, Rey expanded to the northwest, in the process blackening close to 10,000 acres of Rancho San Fernando Rey, before burnout operations succeeded in containing that part of the fire. Over the past two days, the fire took a 180-degree turn and is now spreading east and north, with the potential to pose a direct threat to South Coast communities and to char large portions of the Dick Smith Wilderness. The wilderness area holds major portions of the watersheds to the north of Lake Cachuma.
From the news releases posted by Los Padres Forest officials, it is difficult to get a clear picture of what has burned or what might in the coming days. Yes, the fire is now burning into the Dick Smith Wilderness and for the most part away from the coast. That is good news. The bad is that continued drought, incredibly dry brush, and temperatures that again soared into the 90s yesterday have created the potential for the Rey Fire to expand much further to the interior and toward Highway 33 than one would have thought possible just two days ago.
The wind has played a major factor in determining where the fire will go and what opportunities firefighters will have to contain it. On Saturday night, when the wind shifted to the east, bringing the fire swiftly down onto the Upper Oso Campground area, it effectively helped secure the west side of the fire. But at the same time it opened the door for the fire to jump Oso Canyon and head east — a situation that could ultimately lead it over the Santa Ynez Mountains and down into Montecito or Santa Barbara.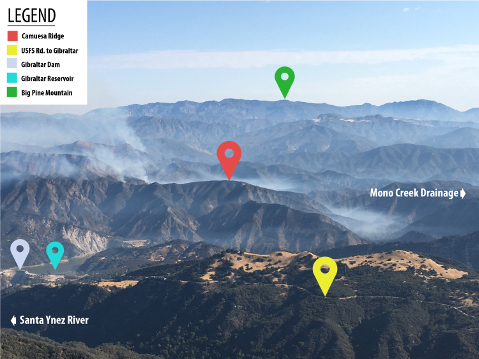 Indy Staff