Last April marked the first time an outside group inspected the County Jail since 2007. The highly anticipated ​— ​and largely damning ​— ​findings made public this week criticize the amount of time inmates are placed in small, windowless "safety cells," or "rubber rooms," as they're known.
"The county is a real outlier in California and nationally with this practice," said Melinda Bird, an attorney with Disability Rights California, the state-mandated advocacy group seeking to protect the rights of inmates with mental-health disabilities. Most jails do not hold inmates in a safety cell for more than a few hours, Bird said; Disability Rights found inmates with mental illness and behavior problems were housed in safety cells for "three days at a time on a repeated basis" and that custody staff confirmed placement was "not temporary."
Other problems that the 26-page report stressed include out-of-cell time, access to mental-health medications, a high percentage of pretrial detainees, delays in responding to requests, and inmates sleeping on the floor, among others. It concluded there is "probable cause" that "prisoners with disabilities are subject to neglect." Sheriff Bill Brown, whom the group called "forward-looking," flatly disagreed. "We recognize there are areas for improvement," he said in an email, "but to say that inmates are being neglected or abused is an unfair, unjust, and inflammatory statement."
As for safety cell protocols, Brown said he is reviewing policy to decrease the time inside and provide more contact with mental-health professionals. He noted, however, they are in compliance with state law. (Brown added Crisis and Recovery Emergency Services is called in within 72 hours for mentally-ill inmates.) Regardless of state laws, Bird argued, her first priority is upholding civil rights.
Populations of county jails surged after realignment ​— ​state prisoners were relocated to county jails ​— ​was enacted in 2011, causing widespread overcrowding. That, coupled with the fact that the Santa Barbara County Jail has been haphazardly remodeled three times since it was built in 1971, makes for an infrastructure and operational nightmare. Brown often invokes the structural problem to argue for the new 376-bed northern branch jail project, slated to be up and running by 2018.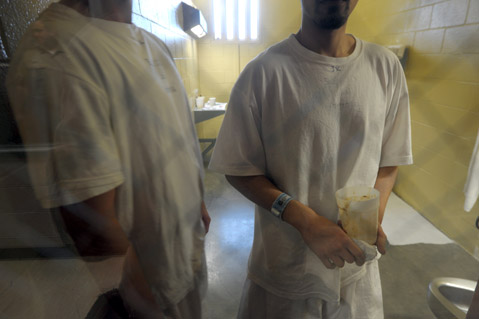 By Paul Wellman