It was a typical day at the office, the computer pinging with emails, the phone chirping with text messages while I sat writing at my desk. One email caught my eye from a person I love and adore, whose still-strong marriage I was privileged to preside over more than 24 years ago. She asked me if I would be interested in writing an article for The Independent's upcoming wedding issue because she felt that my 35 years of being a wedding officiant and having performed nearly 1,000 personalized weddings warranted enough time and experience to comment on the changes in the world of weddings.
Weddings have always been a pinnacle experience in life and a cause for celebration. They summon people from all over the globe to gather in one place, causing a surge of joy, hope, and love. Its vibrancy culminates in a ceremony and celebration that are a confirmation of life, an affirmation of love and its power, and the promise of dreams being fulfilled. The couples themselves are blessed as the center for creation, the expansion of humanity, and the builders of the future. To the delight of the human heart, they represent endless romance and pure love.
Back in the '80s, civil and nonreligious ceremonies were relatively simple and low-key. We would often gather at a park, in a backyard, on a beach, or at the Sunken Gardens at the S.B. Courthouse, where guests frequently stood around for the ceremony and would enjoy a simple meal afterward. Over the last three decades, a high percentage of weddings have evolved into spectacular artistic signature events, surrounded by professionals orchestrating, serving, and capturing every fleeting moment. Today, weddings run the gamut from the simple elopement for two on the beach to the grand, four-day-long destination event for hundreds of guests at the finest resorts in S.B. County, with a myriad of events leading up to, and occurring after, the wedding itself. It's all good.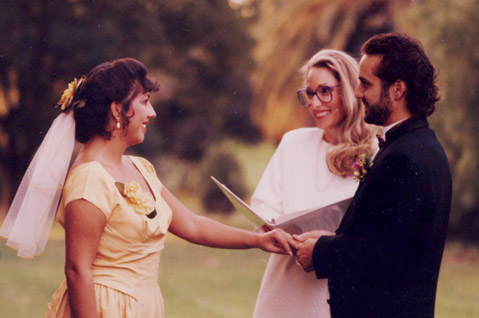 By Courtesy Photo