Tom Franklin figured he'd seen everything when he retired as fire chief in 2009 after a 32-year career with the county's fire department. He'd witnessed flames fueled by 100-mile-an-hour winds keep pace with his truck as he floored it to safety during a 10,000-acre fire. Four people, as Franklin described it, "burned up" in that one, including an assistant fire chief and dozer operator. For 25 years, Franklin, assigned to Station 13 by San Marcos High School, saw more than his fair share of car-crash carnage on Highway 154, extricating both survivors and corpses from the wreckage.
Two weeks ago, Franklin ​— ​a civilian now ​— ​watched in horror as a close family member was arrested at the intersection of Highway 154 and Foxen Canyon Road after plowing a stolen Jeep Rubicon into an errant donkey crossing the road. As Franklin's relative was walking up to drag the dead donkey to the side, a surprised motorist following behind swerved violently to avoid a collision and flew off the road. By the time the fire department arrived, the motorist, a 53-year old woman, was dead.
That nightmare really began in earnest six years earlier. That's when Franklin's relative, a promising film studies student at USC and former high school athlete, began exhibiting signs of mental illness. (Out of deference to his family's privacy, Franklin requested that his relative's name not be used.) Initially, Franklin didn't believe it. But the symptoms only got worse. His relative was hearing voices and declared himself an agent of God. Franklin and his wife sought help. The relative was pushed and prodded into two stints of residential treatment. Twice he was placed in psychiatric hospitals. None of it was cheap. Insurance companies pay what they want, Franklin discovered. The family wound up burning through $300,000 in six years. Franklin's relative would be picked up twice for trespassing, once at Hearst Castle. For one month, he lived on the streets. And he took his medications ​— ​strong anti-psychotic drugs ​— ​only when he wanted to. Mostly he didn't think he was sick at all. And he refused treatment. That's all too common for people, Franklin learned, who'd been diagnosed with schizoaffective disorder.
Push came to shove late this April. That's when Franklin's relative slammed the retired fire chief up against his kitchen stove, threatening, "I'm going to fuck you up." What he meant by that, Franklin was told, was suicide. Somehow, Franklin managed to get off a call to 9-1-1 before his phone was snatched from his hand and broken in two.
Sheriff's deputies showed up. They summoned mental-health workers. They, in turn, quickly concluded Franklin's relative posed an imminent threat to himself or to others. Accordingly they had him placed on an involuntary hold at Santa Barbara County's Psychiatric Health Facility. Three days later, Franklin said, his relative was cut loose. "He got no treatment at all," Franklin said. The fatal Jeep-donkey incident took place just a few days later. Today, Franklin's relative is now held in County Jail, facing charges for auto theft. The case has been transferred to a mental-health diversion court. If Franklin's relative doesn't take his meds, he can't begin treatment, Franklin said. If he doesn't get treatment, he's going to state prison.
In the intervening six years, Franklin the firefighter became Franklin the mental-health firebrand. He joined the county's Mental Health Commission. He became a card-carrying member of the National Alliance on Mental Illness (NAMI). He led weekly workshops for families who found themselves on the same sinking ship. And along with many other mental-health advocates, Franklin has lobbied the county supervisors to fund a small-scale pilot program known as Laura's Law that gives judges the legal authority to "order" the most treatment-resistant mentally ill to seek and obtain outpatient psychiatric care.
Although Laura's Law was enacted via statewide ballot initiative in 2002, funding for it didn't become available until two years ago. For it to be effective, individual counties must opt in by a vote of their supervisors. In the past two years, Santa Barbara mental-health advocates have clamored for such a vote. Multiple times, the supervisors struggled and wrung their hands: Santa Barbara's mental-health department, in perpetual crisis mode, was in especially serious trouble; the new department head, Alice Gleghorn, needed to focus on more immediate structural reforms before taking on the distractions of such a new and challenging initiative.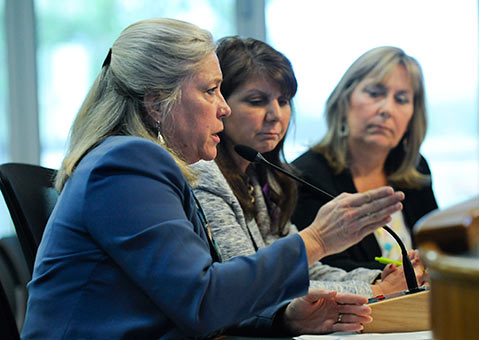 Len Wood / Santa Maria Times