Denver-based electronic musician Pretty Lights closed the Bowl's concert season last Thursday night — not with a bang, but with a burst of light. The epic show was akin to a 1990s rave — imagine the bowl lit up with glow sticks, bass rattling in your chest, and dancing underneath the stars. Derek Smith, the man behind the turntable, may have paved the way for electronic dance music's popularity in America, but he still produces his own distinct sound. His melodic blend of jazz, rock, soul, electronica, and hip-hop was accompanied by a live band, which added a special element to the show.
Photo Gallery
Pretty Lights at the Bowl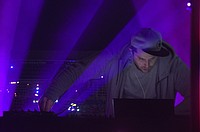 The deejay gets the crowd up and dancing at the Bowl's concert-season closer.
Although people were crammed like sardines on the general-admission floor, there was neither a mosh pit nor crowd surfer in sight. This was perhaps unusual for such a large venue, but the feel-good vibes of Smith's beats encouraged everyone to dance freely and by themselves.
The giant dance party was unlike anything I'd ever seen at the Bowl, and it was a great reminder for Santa Barbarians that we know how to party. Smith, clad in sweatpants, summed it up best: "In four words: This shit is dope."