This year, when we polled our staff, contributors, and trusted cadre of restaurant-loving friends, more than 30 nominations poured in for our seventh annual Foodie Awards, from the priciest places in town all the way to tasty, much-easier-on-the-wallet taquerías.
To us, that's strong evidence that the restaurant scene continues to evolve, expand, and excite in Santa Barbara, where the culinary culture shows no signs of abating.
After much discussion, we trimmed that list of 30-plus down to these 10 Foodie Award winners, which represent a wide variety of dining cuisines, service styles, and price points. Enjoy reading, and then start eating!
Funk Zone Favorite Award
Mony's Mexican Food
When it first opened three years ago, Mony's Mexican Food was a Funk Zone secret, a tiny taquería hidden inside of a nondescript building on lower Anacapa Street, around the corner from the strip joint and next to the adult bookstore. But as the neighborhood's winemakers and artists started spreading the word about tasty taco meats and refreshingly inventive salsas, the low buzz grew into a tidal wave of popularity. Today, drive by Mony's during lunchtime, and you'll find a line out the door and tables packed with smiling faces, juices dripping off their chins.
The visionary is Mony Diaz, the native of Colima, Mexico, who began driving and cooking on a food truck 16 years ago. She and her husband, Jose Diaz, first used the building for the Hidden Dolphin Café, but primarily used its kitchen for catering. Then in July 2013, the Diaz family reopened the space as Mony's, where you can find al pastor, asada, cabeza, buche, and other meats, both familiar and exotic, as well as peanut and pistachio salsas. "When I cook, I cook for my family," said Diaz, whose husband and kids are integral to the operation. "You can taste it in my food. As a family-run business, we are all part of the process."
217 Anacapa St.; 895-2978; facebook.com/Monysmexicanfood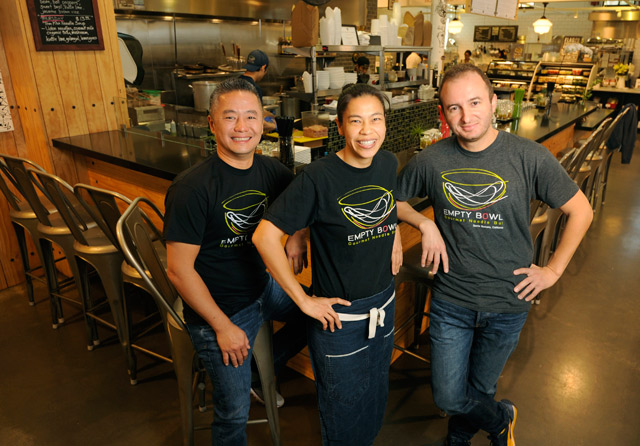 By Paul Wellman