While the cause of the Thomas Fire remains under investigation, this much is certain: The wind-driven wildfire sparked to life around 6:20 Monday evening in the foothills north of Santa Paula near Thomas Aquinas College and spread at such an alarming rate that eight hours later 26,000 acres had been reduced to ash. Another eight hours went by ​— ​marked by overnight blackouts and an ominous sunrise through thick plumes of smoke ​— ​and 45,500 total acres were blackened, 150 homes and structures destroyed, and nearly 30,000 residents of Santa Paula, Ventura, and parts of Ojai had fled their homes under evacuation orders. "Our firefighters had a really rough night," said Ventura County Fire Captain Stan Ziegler on Tuesday morning. "The winds were erratic, moving rapidly to the west toward Ventura and Highway 33 and to the north toward Upper Ojai. Winds were a steady 20-25 mph, with gusts to 50."
Along the 101 near Faria and Solimar, firefighters are working to contain the Thomas Fire to the northeast side of the highway as best they can. Meanwhile, residents under a mandatory evacuation order pack their cars and leave their homes in La Conchita.
By mid-morning Wednesday, nearly 1,800 personnel were assigned to the fire, which had expanded to 65,000 acres with zero containment. It had jumped Highway 33 and the Ventura River west of Ventura Avenue and was racing along the coastal bluff above Highway 101 toward La Conchita. Mandatory evacuations were called for the communities of La Conchita, Solimar, Mussel Shoals, and Rincon. "The fire has taken control of the slope where the oil facilities are along Highway 101," said Rich Macklin, an information officer with Ventura County Fire. "That's an issue for us." He added that the fire had also slopped over the 101 and burned a small area near Faria Beach Park. 
Along the scope of the fire, from Santa Paula to Ventura and up into Ojai, approximately 12,000 structures were threatened and the number of displaced residents had jumped to 50,000. As of print deadline, one firefighter, with Ventura County, was hospitalized with moderate injuries after he was struck by a fleeing vehicle early in the blaze; he has since been treated and released.
This map outlines the areas under evacuation as of 12:00 p.m. on Tuesday, December 19. Orange areas are under a mandatory evacuation order, while voluntary evacuation areas are in yellow. Click on the brackets in the top-right corner of the map to enlarge it.
At Santa Barbara City Hall Tuesday afternoon, City Fire Chief Pat McElroy told councilmembers that 150 personnel from Santa Barbara County, including 26 city firefighters, were assigned to the Thomas Fire. By Wednesday, more had been dispatched to the Little Mountain Fire in San Bernardino. "Things are very fluid," McElroy said. Admitting a bias, Councilmember Frank Hotchkiss expressed concern that the city could be outmatched if a wildfire struck Santa Barbara as city firefighters worked the Thomas and beyond. McElroy replied that interagency cooperation statewide would protect Santa Barbara, or any place else, no matter what. He added that as a general rule, high-wind warnings in Ventura mean relatively calm conditions in Santa Barbara, and vice versa.
By Tuesday evening, the evacuated gathered at the Ventura County Fairgrounds, Nordoff High School in Ojai, Oxnard College, Santa Paula Community Center, Fillmore's Veterans Memorial Building, and UCSB's Multi-Activity Court. Dozens of horses, pets, and livestock from Ventura County had been evacuated to Santa Barbara's Earl Warren Showgrounds. Another 150 evacuated horses were being cared for at the Santa Barbara Polo & Racquet Club. Carpinteria Unified School District closed all its schools Wednesday, as smoke and ash compromised air quality.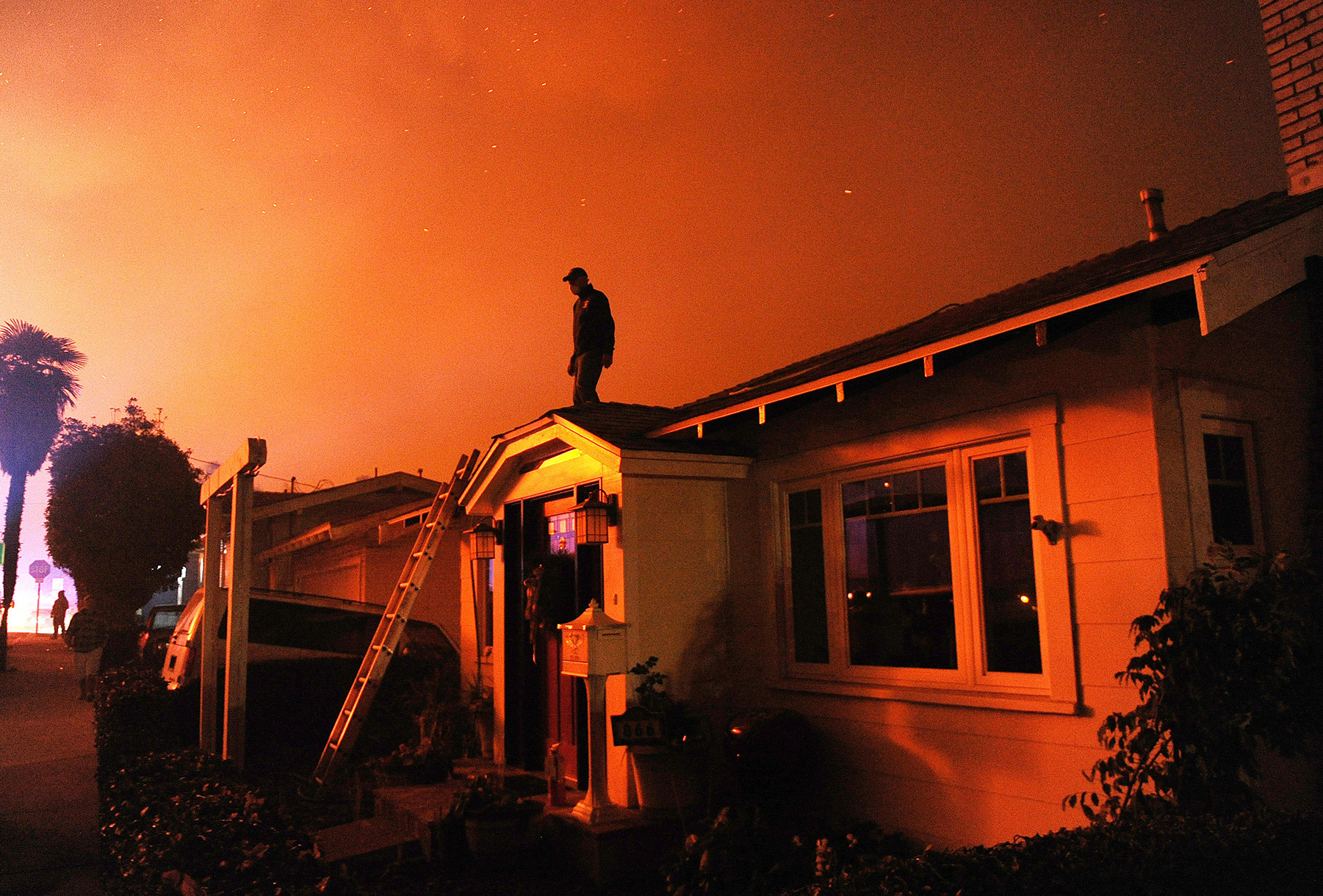 Chuck Kirman/Ventura County Star