Getting out more than a week earlier than expected for Christmas break certainly sounds awesome. But in reality, it's no fun for anyone, especially for working parents of elementary school kids such as myself ​— ​and when no one's allowed to go outside, something is bound to pop.
The first day that school was closed due to the smoke and ash of the Thomas Fire was last Thursday, and ours turned out pretty sweet. My wife took her first of a few partial sick days, and we brought our 5-year-old daughter and nearly 8-year-old son to wine country, where I had a couple of appointments. There was no smoke to choke on, at least for a while ​— ​never mind that tiny brush fire that broke out near the 154 and 101 ​— ​and the kids got to ride on an ATV and in the back of a pickup truck, certainly the highlights of their season. My wife didn't mind the sparkling wine at lunch either.
Day two, however, with my son starting to hack and the smoke growing more oppressive, felt less like a holiday ​— ​kids this age are in school for good reason; their brains and bodies need both steady intake and constant exercise. When my wife went to her office, I quickly remembered why working at home with the kids is a negative sum game ​— ​I start yelling at them as soon as they're having (increasingly loud) fun; the work stalls; no one is happy (unless iPads come out). And with outdoor activities not an option, the contained kid energy boils over rapidly.
Though not cheap, babysitters ease the work-childcare tensions, and the first of many came for two hours on Friday morning. When she left, I turned on the TV and put a holiday movie on for the kids to watch until my wife came home from work midday. Then came the group-entertainment efforts of similarly smoke-addled friends and their kids for dinner. By Saturday, we were deep in sitters. One came during the day while my wife went downtown for masks and I worked at home, rather than putting up Christmas lights in the haze. A second came at night, so we could escape for some grown-up fun, complete with gas-mask photos and jokes about the wrong sort of white Christmas.
Come Sunday, after the flames actually entered Santa Barbara County, a sprinkling of family-wide fear spiced up the scene. (That middle-of-the-night, erroneous "everyone must evacuate" message from the county didn't help, though it did lead to some great 2:45 a.m. text message banter among similarly freaked-out friends.) We turned our TV to KEYT around 6 a.m., and it didn't go off all day. Power outages closed attractive indoor options like Zodo's, and the smoke was bad everywhere worth a day trip ​— ​except south, but I didn't want to risk getting cut out of town if the fire closed 101 again.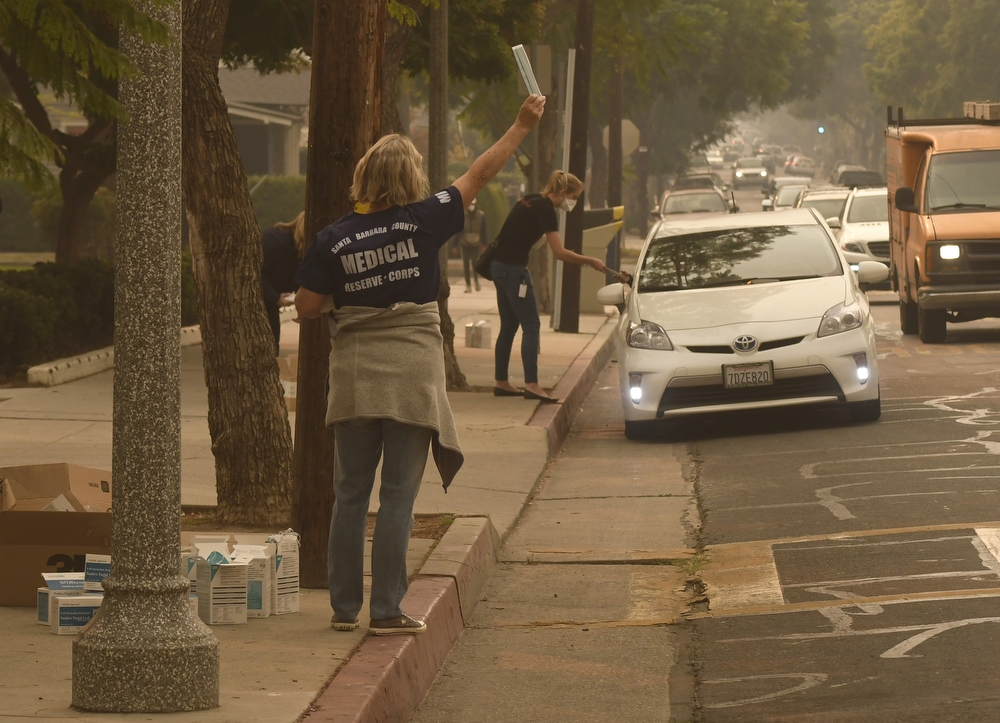 By Paul Wellman