At the corner of San Andres and Micheltorena streets on the city's Westside, a lone street preacher holds forth as wisps of ash dance from his ankles to his knees. A few phantom cars whoosh by. The air is choked with the incinerated remains of nearly 1,000 burned-down homes and who-knows-how-many millions of plants and animals. The preacher's voice ​— ​magnified by a portable PA system ​— ​cracks with amplified distortion. No one stops to listen. A young man carrying a plastic bag of tangerines ​— ​his face obliterated by a blue respirator mask ​— ​appears on a skateboard, gliding silently past. He doesn't slow down. It's the same old sermon, after all: fire and brimstone.
But on this muffled morning, it also happens to be the weather report.
Welcome to the Thomas Fire.
Santa Barbara may be the land of milk and honey, but it's also become the land of the perpetual fire drill. Ten years ago, when Arnold Schwarzenegger was still California's governor, Santa Barbara learned the hard way that fire season had expanded into a year-round event. We had three wildfires and three mass evacuations within 18 months. You'd think we'd be used to it by now.
But every fire is new.
Every fire is different.
And every fire is profoundly disturbing.
The Thomas Fire started out in Ventura County just outside the City of Santa Paula on the evening of Monday, December 4. Incidentally, that is the feast day of Saint Barbara, our city's namesake, who, back in the day, was the patron saint of those facing imminent peril. But this fire is named after another Catholic saint, Thomas Aquinas. That's the name of a small Catholic college where the fire originated.
Since its inception, the Thomas Fire has proved voracious. On day one, it gobbled up 65,000 acres. Fueled by Santa Ana winds, it spread 15 miles, eating up the equivalent of an acre per second. On Saturday, it traveled six miles. A few days later, it grew by 61,000 acres; on another by 50,000. On any one of those days, County Fire Chief Eric Peterson told the county Board of Supervisors, it burned more acreage than the recent Sherpa, White, and Alamo fires combined. "This is historic," said Peterson. "Unprecedented."
The Thomas Fire got so big so fast that even the trained professionals have had a hard time keeping up. During a recent community forum at the San Marcos High School auditorium, the heads of all the firefighting agencies battling the Thomas sought to reassure everyone they had the "best firefighters on the planet." This forum, like many public presentations before and after, is designed to win public trust ​— ​critical if residents can be expected to evacuate when the mandatory order is given. Mandatory evacuation orders have been issued in neighborhoods from Ventura to Montecito. But accurate information is difficult to come by in a fire as fast as this one. Even these ranking top brass had trouble agreeing on the number of acres consumed by the fire. One said it was 173,000, another said 200,000, and a third insisted it was 220,000. By the end they all estimated it had hit 225,000 acres.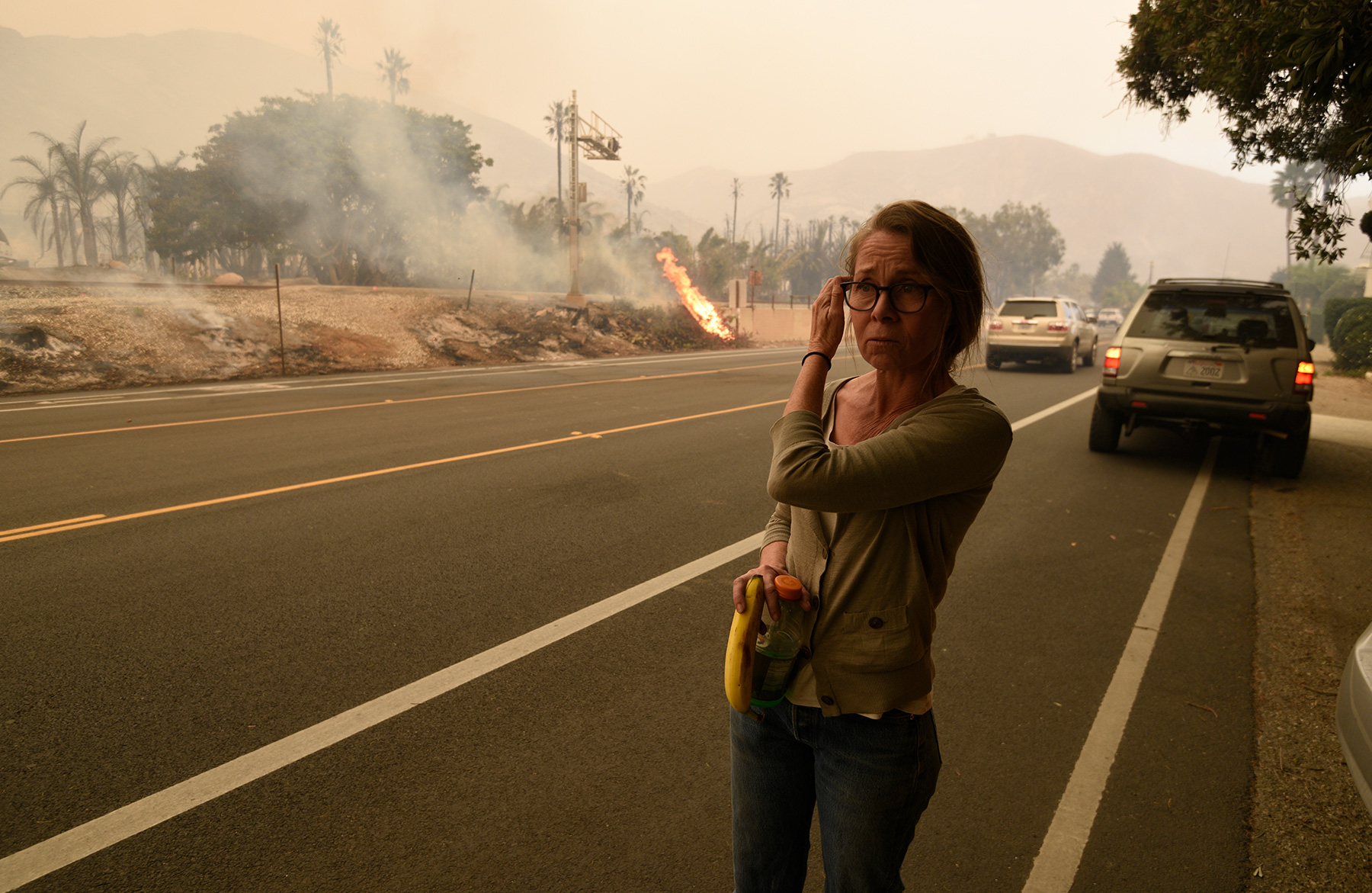 By Paul Wellman