There are few locations in the world that can match the drama and beauty found atop Nob Hill in San Francisco. The famous hotels frame the scene and give way to panoramic views stretching across the city and far into the Bay. The electricity in the air can be immediately noticed affecting visitors, who always seem to be in a festive mood here.
The Scene
Most all well-heeled travelers to the Bay area find their way to Nob Hill at least once in their life and probably more. Although the hotels are continually updated, the nostalgic feeling of this place seems frozen in time, and that might be the big draw. The exterior of the Mark Hopkins, Scarlet Huntington, Pacific Union Club, and Fairmont Hotel have remained largely the same for half a century or more.
The atmosphere is lively with comings and goings at these hotels and the two cable car lines nearby. Whether it's for a drink at the Top of the Mark or just hanging out in the Fairmont lobby people, love to congregate here. For those from Southern California, the brisk weather feels like holiday season year round.
Union Square is just a few blocks down from Nob Hill and easily walked. Chinatown too is just a short distance and downhill. Now I mean DOWNHILL. You will get the workout of your life upon your return and might want to consider Uber. The cable cars might come in handy on the way back up from Chinatown via California Street.
The IC Mark Hopkins
"The Mark," as it is known by locals, is always bustling with activity. Since becoming part of the elite Intercontinental brand, the hotel has gone through extensive renovations befitting a five-star property. Our suite on this stay was out of this world and decorated like a fine estate home, including original artwork representing the city's heritage. The view was equally magnanimous, taking in much of the city as well as the Bay.
As good as the view from our room was, you want to make sure and visit the famous Top of the Mark restaurant and lounge on the hotel's top floor. All of San Francisco unfolds from this location through the floor-to-ceiling windows. This is a great spot for dinner or drinks to celebrate your San Francisco visit; be sure to gaze at the 100 Martini Menu.
Spending time at "The Top" is a must on any visit, and a little planning is needed. As it is a very popular spot, you will either need a dinner reservation or want to choose to have drinks at an off peak time to ensure a window table. I would suggest late afternoon for drinks if the skies are clear.
The Mark Hopkins has a private well-appointed fitness center downstairs, as well as an expansive business center. For complete information visit IHG.com.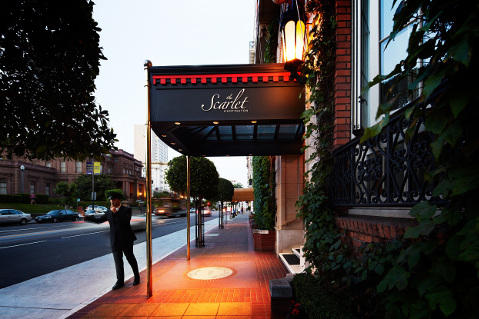 courtesy