La Quinta is the gem of the desert tucked away around a mountain cove at the far eastern end of the Coachella Valley. La Quinta Resort and Spa gave the town worldwide recognition and still is the hub of activity to this day. Great restaurants and lots more golf have followed, but hotel options have not matched this growth due to strict zoning regulations. Legacy Villas in La Quinta is a new option and just a block away from the resort itself.
The Town
Experienced golfers will tell you right away why La Quinta is their favorite desert city. The wind, or, more correctly, the lack of it. You see, the town is tucked in behind a high section of the Santa Rosa Mountains so it misses most of the wind that follows in the direction of Interstate 10. Many days, the wind might be blowing 30mph at courses closer to the freeway and still be almost still in La Quinta.
High-end developers have taken advantage of this ideal spot and started very exclusive clubs like The Tradition, The Hideaway, The Quarry, Madison Club, The Palms, PGA West, Rancho La Quinta, and on. La Quinta has somehow managed to keep the feel of the old desert, and commercial development is miles away from these communities and mostly on Highway 111.
The Golf
Guests at Legacy Villas will want to check out the Mountain and Dunes courses at La Quinta Resort & Club just five minutes away. The clubhouse itself is worth the trip, offering one of the best vistas in the desert if not the world. The floor-to-ceiling glass windows take in much of the Mountain Course and the town of La Quinta, with the Santa Rosas framing the view.
On this trip we played the Mountain Course, which gained a lot of notoriety hosting some of the original Skin's Games with Palmer, Nicklaus, Trevino, and Watson. This unique Pete Dye golf layout is home to one of the most dramatic par three holes in golf. The 16th hole plays a lot shorter than its listed 170 yards, but it can be a real terror depending upon conditions. The tee is perched high up the mountain, offering views of the entire La Quinta area. The green is surrounded by rocks on three sides, and the one side that is open drops off significantly. Take a safe par here, and move on.
The conditions were excellent on our visit, and the club has a dramatic practice range shooting toward the high Santa Rosas. The ball seems to stay in the air forever with this mountain backdrop.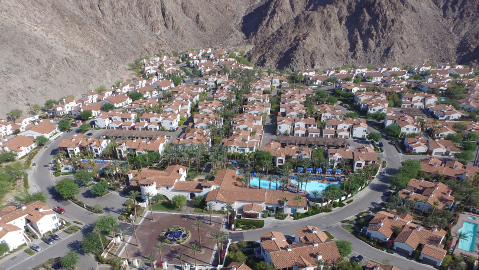 courtesy