Dave Odell's footprints are spread far and wide as a businessman, a college athletic director, a father of three, and a dedicated trail runner, but for almost nine hours last Friday, his steps were circumscribed on a 400-meter oval. To celebrate his 50th birthday, Odell ran 50 miles — 201 and 1/3 times around the Westmont College track.
He undertook the challenge to raise $50,000 in donations to be shared by the Westmont track-and-field program and the Santa Barbara Track Club.
Odell kept a steady pace, knocking off the laps at close to 10 minutes per mile. Every hour, he changed directions, so sometimes he was running clockwise like a British racehorse. As the skies began to darken, his competitive instincts took over. "I wanted to break nine hours," he said. "I had to pick it up and suffer the last three miles."
The timer was approaching 8:56 with a lap to go. In Pied Piper fashion, Odell pulled along a pack of fellow runners who had kept him company off and on during the day. A sizeable crowd gathered for the finish. "Ding, ding, ding!" they shouted in lieu of a bell. Two minutes later, Odell came to a gratifying standstill and listened to a chorus of "Happy Birthday." He thanked them and said, "I'm going to sit down and take my shoes off."
"He was a little sick this week," said Dave's wife, DeAnna Odell. "He came through. The community got behind him. For not one lap did he run alone."
Dave and DeAnna both were Westmont athletes in the 1980s — he as a basketball player and she as a record-breaking distance runner. In their wedded life, she turned his exertions from the court to the hills. On their 20th anniversary, they participated in the Transrockies Run, a six-day, 120-mile mountain trail race. "We ran in the mixed-pairs division," Dave said. "We had a blast."
Last summer and fall, they did two 100-mile runs: the Rio del Lago near Folsom and the Cascade Crest in Washington.
"He loves his wife, and she loves to run," said Bill Odell, Dave's father and a former Westmont basketball player himself. He and his wife, Gayle Odell, were at the track Friday. "He's crazy," Bill said. "For our anniversary, we went to Maui."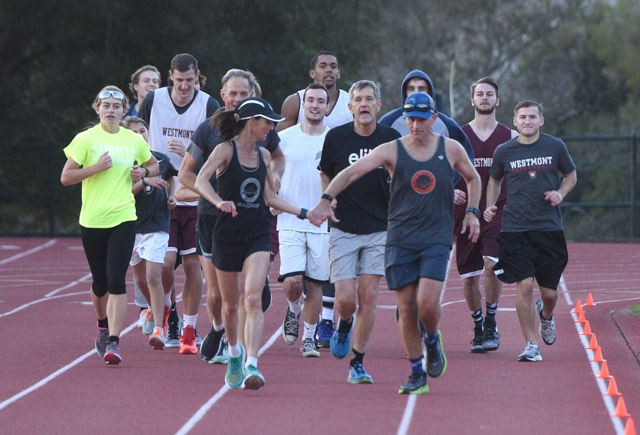 By Paul Wellman