At first glance, the "Welcome Mr. President" banner hanging on the Pennsylvania Avenue building appeared sarcastic. Less than 24 hours after Donald J. Trump was sworn in, hundreds of thousands roared in his new city holding signs shaped like vaginas. Many Trump supporters would not approve of such provocative visuals.
But they were long gone. Most Trumpettes I spoke to planned to leave the city by Friday night. When I asked why, they pretended it had nothing to do with the fact that several hundred thousand fuming women were coming to town to give the new president a taste of what the next four years would be like.
The contrast of the Inauguration to the Women's March on Washington could not have been starker. In hindsight, the Inauguration felt more like an amateurish tailgate party where a few gruff fans got a little too drunk off cheap beer. These were the guys (and gals) who shouted in the faces of just two protesters outside the gates of the Inauguration holding an innocuous sign that read, "No Racism, No Hate." It was bright pink, and an obvious dig at Trump, but the "protestors" had kept a straight face, saying they just wanted to spread love. That proved to be too much for quite a few Trump tailgaters.
I couldn't figure out why so many stopped on their way out to harass the two of them. "Who has he ever hated?" one screamed. They were oddly defensive. Even if these quiet troublemakers truly wanted to irk them, why they give them the satisfaction?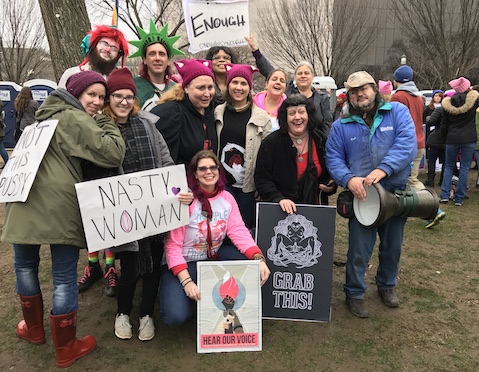 Kelsey Brugger