It might make sense to begin a story about D.J. Palladino's debut novel, Nothing That Is Ours, by referring to the 65-year-old author as a late bloomer. Or to proclaim that, after buying the diminutive Mesa Bookstore with his wife, Diane Arnold, just about a month before the novel's release, Palladino has finally arrived in literary Santa Barbara.
Whether a work of art is sold, however, is a poor measure of its value. Thus, such statements would be equal parts unfair to art and Palladino, who has been writing since he determined, 12 credits shy of a bachelor's degree, that he'd learned as much as he needed from the UCSB English Department, and took a full-time job at the Santa Barbara News & Review, one of the two publications that would eventually merge and become The Santa Barbara Independent.
About five years ago, when I was working as a reporter for this publication, Palladino paused at my desk one day to compliment the lead sentence of a story I had written. I know it was a Wednesday because every Wednesday, Palladino stops by The Santa Barbara Independent to pick up his best friend and executive editor, Nick Welsh, for lunch.
My story was about a bankruptcy filing by a renowned vintner, and the first sentence read: "Turns out being good at what you do and making money are two separate endeavors." Little did I know at the time how much the sentence also applied to Palladino, who was enduring an eighth year of trying to find a publisher for his novel.
Like the vintner, Palladino received praise for his product, but he struggled to sell it, even with help from his lettered friends. His first champion, and the first reader of the novel, was the travel writer and essayist Pico Iyer, who tried to pass the book on to his own agent ​— ​and then Thomas Pynchon's agent. It was Carpinteria-based journalist and author Ann Louise Bardach who would successfully fulfill the role of literary matchmaker, connecting Palladino with his eventual publisher, Asahina & Wallace.
Palladino started writing the novel in 2000, and he finished the first draft four years later. The final edits were completed in 2015. It finally hit bookstores this past March.
"James Joyce didn't take 15 years to write Ulysses," Palladino joked over dim sum as I interviewed him for this story and he feverishly shoveled pork buns and roasted duck onto his plate.
Tastemaker
Save for red-striped Coke-bottle eyeglasses covering a pupil that bleeds into his left cornea, there's little about Palladino's appearance ​— ​think pleated khakis and well-traveled sneakers ​— ​that suggests his total immersion in the joys of aesthetic pleasure. (I do have it on good authority, though, that his close-cropped salt and peppers are managed by an Italian hairstylist.)
Nevertheless, whether it's the food on his tongue ​— ​or the words ​— ​Palladino takes taste quite seriously. This is a quality he's reaffirmed during a long career as a critic. In a small town such as Santa Barbara, where it's impossible to write about someone you aren't eventually going to get stuck behind in a checkout line, Palladino has never shirked from leveling unstinting feedback or, more simply put, being honest about his likes and dislikes.
It's also a quality he impressed upon his son, Zac, when they cowrote film reviews in the '90s. Palladino would force his pint-sized partner to defend his opinions about movies and to reassess his prejudgments of those he didn't initially want to see. (Now grown, Zac designed the cover for his father's novel.)
Palladino fondly remembers writing a book review in which he "dumped" on the text that, ironically, planted the seed for Nothing That Is Ours. It was a volume of academic essays about Santa Barbara history. Palladino found the entries dry and lifeless, but one stood out to him. It told the story of Castle Rock, a large geographic structure that was dynamited to make way for the Santa Barbara Harbor at the behest of a rich man who wanted a place to park his yacht.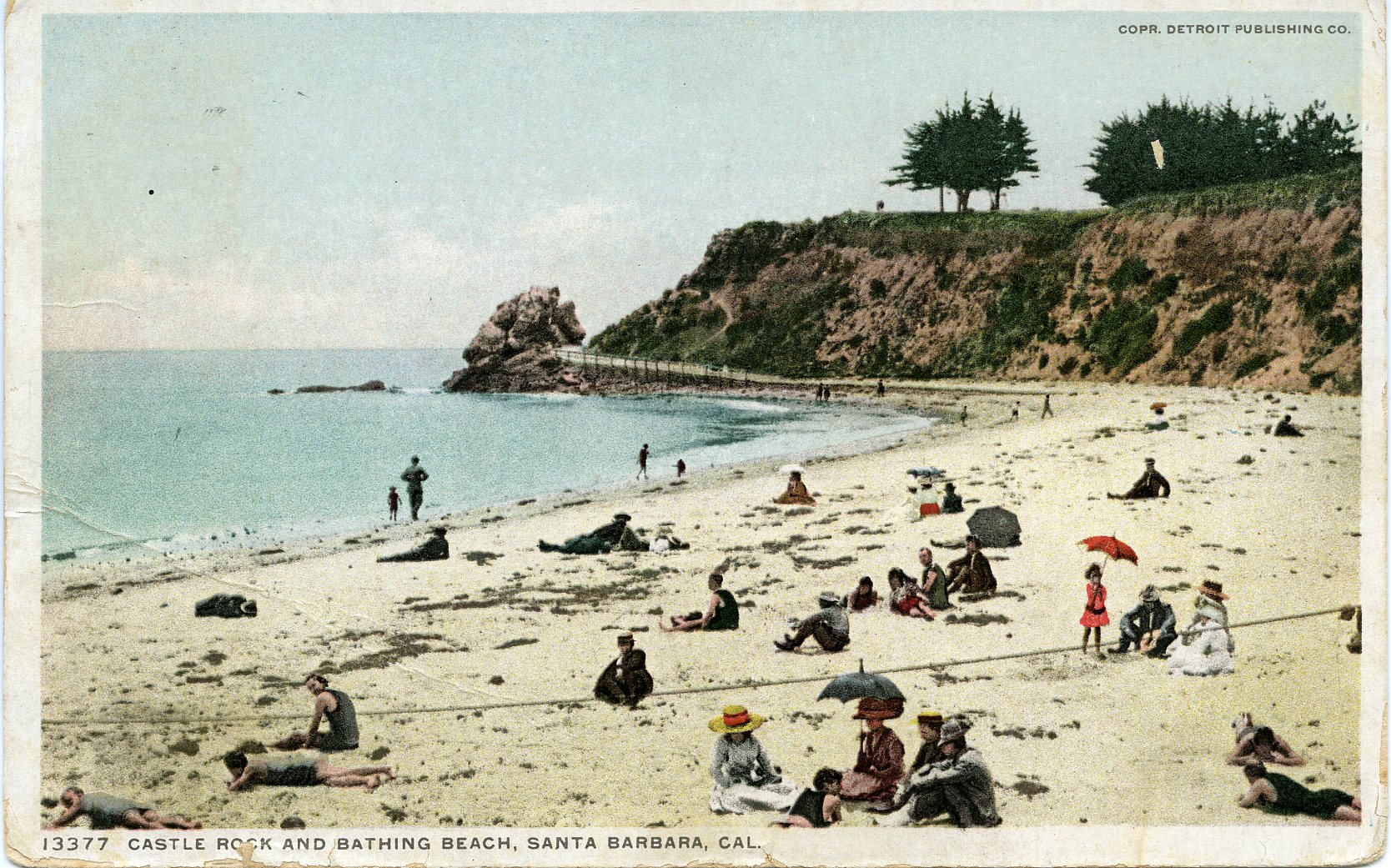 Santa Barbara Historical Museum