When Don Carano opened Eldorado hotel in 1973, he realized that he did not have the capital to attract top Las Vegas entertainment talent. Instead his vision was "We'll make the food our Frank Sinatra." This was quite a departure from casino thinking in those days, and today food is an art form at his Eldorado and its sister properties in Reno.
The Team
On my recent visit I was fortunate to have an extensive tour with Food and Beverage Manager Lisa Carano and Executive Chef Ivano Centemeri. We spent the better part of two hours taking a behind-the-scenes look at how Ivano is able to deliver incredibly fresh food among such diverse culinary cuisines. Ivano is most known for the resort's flagship restaurant, La Strada, which he started. A native of Italy, he still retains his accent and has real passion for his job.
Lisa Carano was a very down-to-earth host with no pretenses, despite being the daughter-in-law of owner Don Carano. In fact, every manager that I came in contact with at the property had the same customer-friendly attitude. This is something you would only find at a family-owned business like Eldorado. Most employees seem to have been with the property for 15-plus years.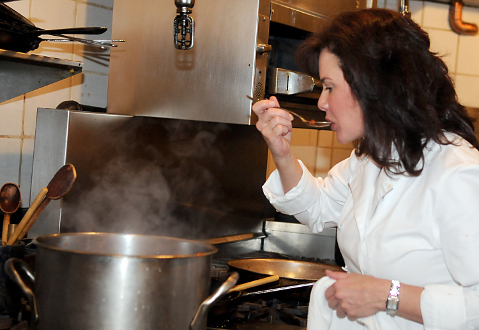 courtesy