Ralph Lowe, who contributed to The Santa Barbara Independent for all too short a time, died on June 10, 2017. His life took him — and wife Georgene Lowe — around the world into war zones and refugee camps, some of which he recalled in memoirs written during his last months in San Miguel de Allende. The writing here is excerpted in this week's print edition.
We are down here in Steve and Brenda's palacio with its paradise (Arabic, it turns out, for "walled garden") waiting out DNA testing, genome positioning, trying to find the high ground from which to fire upon, or at least snipe at the shadow army that seems intent on killing. It is a patient, intent militia, impervious so far to nuance or shock and awe. The greater field of battle, my body, remains deeply scarred and traumatized by fire both friendly hostile — inexplicably nasty, malicious and without conscience, guidance, ideology, or history. This is not a bus running over me on Broadway but rather me killing me. We have been to the mountaintop (the Mayo Clinic), danced to Doctor Gupta in Santa Barbara with his macabre tune, and it all comes down to the same end, and that is, barring a miracle of DNA identification, I'll be dead within the year.
Georgene asked me to write some stuff down before my collision with that "Rough Mountain, death." The following will be incomplete as are all such attempts at summation must surely be. I will leave out a great part of the cast, whole eras, road trips, lovers, failures, and triumphs. I will spend an hour a day or so doing this and no more because there is much to still see, smell, hear, but, I fear in my case, not taste, before my denouement slips into high gear, and then, who knows what?
San Miguel de Allende, Guanajuato State, Agua de Ojos, Mexico
Not far from here, Neal Cassady was killed one night crossing the night track, no doubt drunk on tequila and his visions which Kerouac would steal for his own. He lived, talked, drank, seduced, talked some more, and was insatiable for all that there might be, and he didn't want to miss any of it. He seemed like a good role model then and now.
And so it was years on the road with Tim, Russ, Georgene, Bob Richie and his alcoholic dog Jim, Steve Catalano, and Danny Ringle who changed his name to Montana and drank himself to death in Wyoming. We hopped freights, hitchhiked for thousands of miles, met the great and the small, and learned to live with the blank horizon impaled by Route 80 or 90 and shards of 61. We learned about patience and its limits. We read Whitman and Kerouac and Sartre and Nabokov by hobo junction firelight or in the stagnant sun of the Midwestern endlessness. We learned the value of conversation, took no pictures, didn't want a camera, made long distance phone calls to girls using John Lennon's credit card number which was announced from the stage at a concert in the Haight by some feckless Wavy Gravy type who lived to undermine the system whenever and however he could. I respected his intent but don't and didn't approve of Lennon as a cog. The phone booths on the edge of truck stops would eventually fog up and there I would be trying to fend off the cold and sweet talk some poor girl who didn't deserve such use. I will avoid the word Alas as often as I can but I fear I can't avoid it enough.
Dunn School
I was born, the son of a surgeon and a singular woman who bore four of us boys, and then grew up in the fragrant humidor that was Orange County, California. The county was well named. There were millions of orange trees bearing heavy fruit and blossoms. There were no freeways. My dad, along with his brother in law, Uncle Sid, built one of the first of two or three motels across the street from what would become Disneyland and the epicenter of the decay of paradise. We watched them build a phony mountain and then lived it its shadow. I was in high school before I realized that we had been witness to an all-out assault on beauty by the armies of greed.
I published an underground newspaper, The Armadillo — named after Steve's stuffed one that he has kept as a talisman all these long years — then later betrayed myself and the rest of the editorial crew by blabbing out my part in order to impress a girl who would never have even deigned to look at me until I was the desperado of the moment, the conscience of a generation and even cool. I was part of the vanguard of what we all wanted: change, disruption, new possibilities, and the withering away of a past that was oppressive, without imagination or music. The administration at Sunny Hills High School saw us not as visionaries but pretentious, adenoidal troublemakers who had gone well beyond the pale and there should stay. That is how I came to Dunn.
At Dunn I met Tim, and we would be fellow travelers, confidants and sounding boards for each other for the rest of my life anyway. We hitchhiked across America some seven times, and all of North Africa (with Russ on The Trip) which looked remarkably like California, hopped freights, huddled in the rain, and waited for the car that would save us to make its slow tantalizing appearance at the top of the horizon. At Dunn I was gifted with a group of teachers whose expertise, imagination, and zeal would make up the man I wanted to be and, I hope, became. I lived in a water tower and learned the virtues of living without corners. I saw teachers like Mr. Thatcher and Mr. Gill and wanted to be them.
Teaching is a sacred endeavor. Children trust that you guide them and tell the truth. They begin to have intellectual powers they never imagined, and you get to show them the way: Don't read Frost, read Yeats. Shakespeare is the shaper of mankind itself — his wisdom and humor far more useful and reasonable than anything to be found in all the gospels. Listen before you speak. Things are rarely as they seem, compassion, and awareness are synonyms, and so on.
We graduated. I went to Salt Lake and the University of Utah with Dray Freeman and Russell with boots already firmly on the ground. I fell in with hippies and the like, and our belief was that we were immortal and responsible for keeping iconoclasm, dizzying imagination, and hope alive in an America we saw as greedy, dangerous, hidebound, and suspicious.
I met lots of girls. They were in the full blush of youth, and I thought them perfect and scary and mysterious. Their beauty is the standard still by which I make most aesthetic assessments. They are always here, always with me, and I wish there were some way to let them know that I was the clay or dough they kneaded without even knowing it. They are my pantheon of personal poets — speakers from beyond, keepers of deep knowledge, and the agency by which serenity might be doled out to us in the rare, odd moments when we put on the alpaca woven with grace.
College was boring. I got straight As, and it ruined me for academe. I was itchy in the classroom, impatient on the street, and then I met Courtney Morgan who lived in Idaho Falls and went north with her where I worked in her father's factory making boxes on an infernal machine and learning to tie canvas spud sacks. When I left, Morgan was crying as she handed me a golden needle in a leather bag in case I ever needed to fasten a woven material around something — anything — and that wouldn't come up until the Sudan where part of my duties was bartering for shrouds within to place the wretched of the earth after the short, eviscerating opera that were the lives of refugees in the Horn of Africa where they say was where Eden was though I never saw anything to support that notion. There we were in the Land of Nod where Adam and Eve learned to need, and I had left Courtney's needle at home and have yet, even now, to find it.
I went to Fullerton, lived at home, worked two jobs, and put all my money in a shoe box.
In the Wind
I met Tim in San Francisco and we a hopped freight out of Sparks, Nevada and then hitchhiked to Manhattan to try and meet Kerensky (the ad hoc premier of Russia, who was exiled to America.) We caught he hippie airline — Icelandic Air $200 NYC to London — and we were off. In the wind.
We lived in barrack-like hostels in London and Tim went off somewhere and I hitched north to Wales and Dylan Thomas' village of Laughrne where I walked, peeked into different corners of his biography, and ate lunch next to his grave. I think I was there for a week and met Tim and, somehow, we started going south.
The plan was to meet the daughter of a guy who had picked us up in Nevada and driven us to Chicago (or something like that) who showed us pictures of his beautiful daughter who was in the Canary Islands, and so that is where we headed. Somehow we got stuck in Athens. We lived in the Plaka on rooftops and sold fried egg sandwiches to hungry hippies using a portable stove and a skillet from the flea market in Monasteraki. For some reason, we finally got on a plane and landed in Cairo during one of the Israeli wars where all the headlights were painted and where sirens battled the calls to prayer. Then we moved to Marrakech and lived in an apartment beneath the Kartubia Hotel not far from Djelma el Fna "the market of the dead" which is the most complicated, outrageous, and fascinating market in the world if you don't count Chichicastenego in the mountains of Guatemala.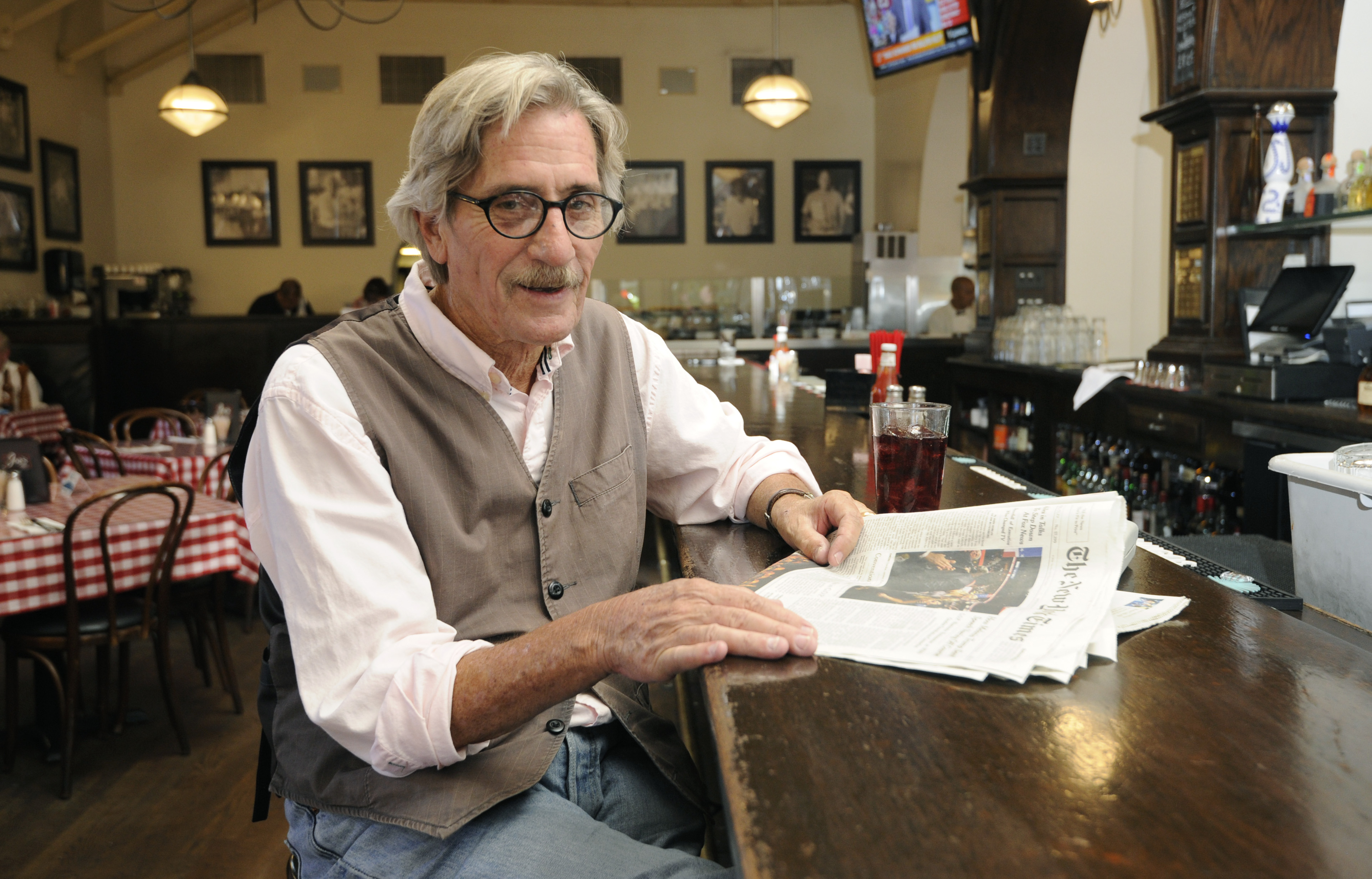 By Paul Wellman (file)