Upward of 120 people poured into the Carpinteria Veterans Hall on Monday evening to attend an immigration panel put on by Indivisible Carpinteria in support of the area's immigrant community. "We're here because we believe we need to protect immigrant families and workers in our community," said Leslie Westbrook, cofounder of Indivisible Carpinteria, an organization devoted to peacefully resisting the new administration and its policies.
The audience was met with a panel of community leaders, ready to answer questions and share information on the effects of the Trump administration's expanded deportation order on the Carpinteria community. Panel members included Jesus Rocha of the California Rural Legal Assistance; Frank Rodriguez of the Central Coast Alliance United for a Sustainable Economy; Marisol Alarcon, a Carpinteria immigration attorney; and Monsignor Richard Martini of St. Joseph Catholic Church.
"People deserve respect. No person is legal or illegal. Only behaviors are legal or illegal. All people have their dignity," Father Martini affirmed in his opening remarks.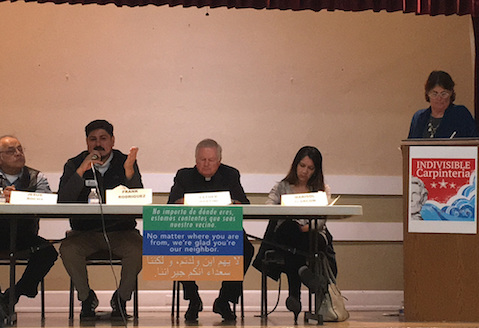 Odessa Stork