Cannabis has made it to the elite world of high level money managers. Last week the elegant Peninsula Hotel in Beverly Hills hosted the 2nd annual Cannabis Private Wealth Summit focused on delivering investment information to family offices. The event operator is out of New York with extensive investment conference experience.
The Scene
Well, even though I don't have a Maserati, I am comfortable in Beverly Hills as my first job out of college was just a couple of blocks away at Union Bank. The Peninsula is a very upscale and intimate hotel, which was perfect for this gathering of 150 private office investment executives. I noticed a bit of apprehension among the group initially, which very soon subsided. After all cannabis investment is not quite private equity material yet, is it? The line up of expert speakers quickly dispelled this trepidation aided by a sumptuous buffet brunch to start.
The Speakers
Right out of the box attendees were given a high level panel discussion with veteran investment manager Kevin McGovern of McGovern Capital as moderator. This high powered panel also included Matt Hawkins of Cresco Capital Partners, Douglas Leighton of Duchess Capital, and Steve Schuman with Halley Venture Partners.
McGovern expertly guided the panel through a discussion of how they look at cannabis investments. He brings impressive credentials, including being on the board at the Smithsonian and a trustee emeritus at Cornel University. I was particularly struck by his global views on cannabis development. "Israel is leading the way on cannabis. They are way ahead of the United States on clinical trials," according to McGovern, who had just returned from a large cannabis event there.
Matt Hawkins of Cresco Capital discussed how his firm has been cautiously employing capital into the cannabis space. Steve Schuman was perhaps the most reluctant to invest, noting that he was having a hard time finding good deals. One thing that all on this panel agreed upon was that publicly traded Canadian cannabis stocks are overpriced. This was disputed by some Canadians in the audience, who reminded all just how large the cannabis market could become.
The Attendees
Just like the city of Los Angeles, this event was a melting pot of worldwide interests. India, Canada, Colombia, New Zealand, Mexico, and China were all represented, as were most parts of the U.S., including New York, San Francisco, Dallas, Seattle, and a large group from SoCal.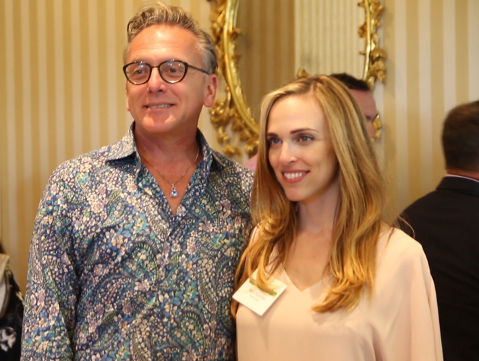 R.W. Navis