It's Santa Barbara's 2017 General Municipal Election, and in the regular independent.com tradition, we'll be using this page to deliver results, reactions, and reports from the various election night parties happening throughout the city.
Our team of reporters — Nick Welsh, Kelsey Brugger, and Keith Hamm — will be out and about to get the scoop while senior editor Tyler Hayden holds down the fort at Indy headquarters and writes these updates, which typically run late into the evening.
If you're wondering who's winning, who's losing, what they're saying, and what they're drinking, this is the place to be. Send feedback and your own reactions to news@independent.com.
The first round of results will be announced sometime between 8 and 8:30 p.m. and include a count of all 16,800 ballots received by the City Clerk's office by the end of the day Monday. The second round of results will come between 9:30 and 11 p.m. and include ballots dropped off on Tuesday. A third announcement will be made late Friday afternoon with a count of any mailed ballots postmarked November 7. The final results will be certified next Wednesday, November 15.
According to the most recent registration figures of eligible voters, Santa Barbara is home to 25,667 Democrats, 8,677 Republicans, and 14,311 decline-to-state independents or those registered with third parties. Turnout is expected to reach 40 to 45 percent.
As of 5:30 a.m. Wednesday morning, the results are as follows:
Mayor
Cathy Murillo: 6,059 (28.1%)
Frank Hotchkiss: 4,669 (21.6%)
Angel Martinez: 4,213 (19.5%)
Hal Conklin: 4,196 (19.4%)
Bendy White: 2,447 (11.3%)
District 4
Kristen Sneddon: 2,921 (51.0%)
Jay Higgins: 2,084 (36.4%)
Jim Scafide: 726 (12.7%)
District 5
Eric Friedman: 2,395 (55.4%)
Warner McGrew: 1,930 (44.6%)
District 6
Gregg Hart: 1,578 (56.3%)
Jack Ucciferri: 804 (28.7%)
Aaron Solis: 421 (15.0%)
Measure C
Yes: 11,947 (55.7%)
No: 9,492 (44.3%)
Overall Voter Turnout: 45%
[Update, 8:19 p.m.]: Moments away from hearing the first round of results, mayoral candidate Cathy Murillo has made her way to the council chambers ― now doubling as City Hall's election headquarters ― alongside District 6 candidate Gregg Hart, sitting councilmember Jason Dominguez, and County Supervisor Janet Wolf. A gaggle of City College journalism students has packed one side of the room while former city administrator Jim Armstrong and current administrator Paul Casey hover in the back. Election staff hustle to complete their first tally.
[Update, 8:28 p.m.]: Candidates continue to file in. District 4 contenders Jim Scafide and Jay Higgins found seats in the increasingly crowded room. District 5 candidate Eric Friedman also made his entrance. Chamber of Commerce president Ken Oplinger parked himself upfront. The City College students were overheard complaining the proceedings feel "too casual." KEYT reporter John Palminteri is starting a live broadcast while Noozhawk reporter Josh Molina and Independent editor Nick Welsh take notes and chat in an aisle.
[Update, 8:40 p.m.]: As 8:30 comes and goes, the audience grows antsy. Ballot counters continue toiling away.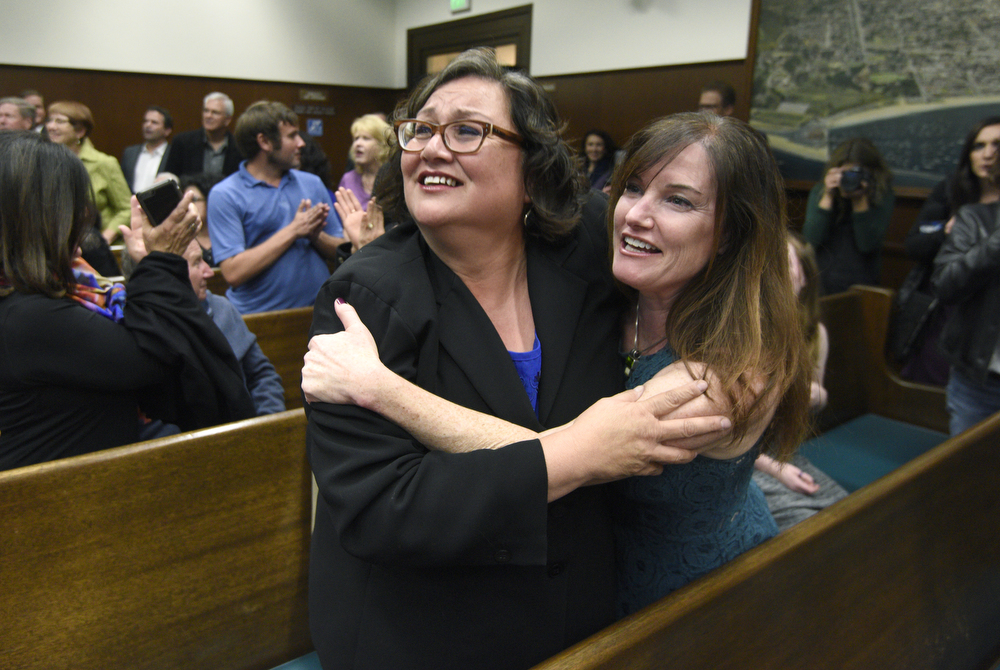 By Paul Wellman