As residents of the American Riviera, we're already living on Cloud Nine in terms of food and drink. However, Satellite, the new wine bar and cafe at the entrance of Impact Hub, somehow manages to transport guests into a new orbit of wining and dining.
The sleek, space-themed spot, which opened in June, offers lunch, dinner, wine, beer, spritzes, catering, and wine education, providing members of the public with a place to meet friends, relax, and explore new frontiers in taste.
"I spent every summer in college living with winemakers in Italy," Drew Cuddy, Satellite's owner, explained of his initial voyage into the wine world. Since then, he's committed himself to a continued exploration of all things wine and food, working on small, family-run wineries across Italy, France, Spain, and, most recently, Sonoma. Cuddy brings this cosmopolitan consciousness to Satellite, serving seasoned wine enthusiasts bottles they may never have tried.
"A side passion of mine is showing off wines that are made very well in the vineyard as opposed to the cellar and [that] also are from small producers," Cuddy said. "We try to show a lot of regions from all over the world."
I enjoyed a tour de force of samplings, including a crisp rosé from Provence, a pinot noir from Tasmania, and a single vintage sherry from Spain, and landed back in S.B. with a standout malbec, grenache, and syrah blend from acclaimed winemaker Ernst Storm. "I'm looking for wines that are very honest and truthful about the place that they're from," Cuddy said.
Perhaps it was this visceral sense of place that left me feeling transported although I was on State Street, looking out on a familiar scene. La Arcada plaza, with its blooming jacaranda trees and busy shoppers, took on a new light. The fresh Contatto Spritz with Montecito orange and the jar of plump Sicilian Castelvetrano olives that greeted me may have helped as well.
The spritz is a crowd favorite, and near and dear to Cuddy and server Julia Wiggins, who said, "At the end of the day, I want to drink something refreshing that will bring me back to life, and that's what this is."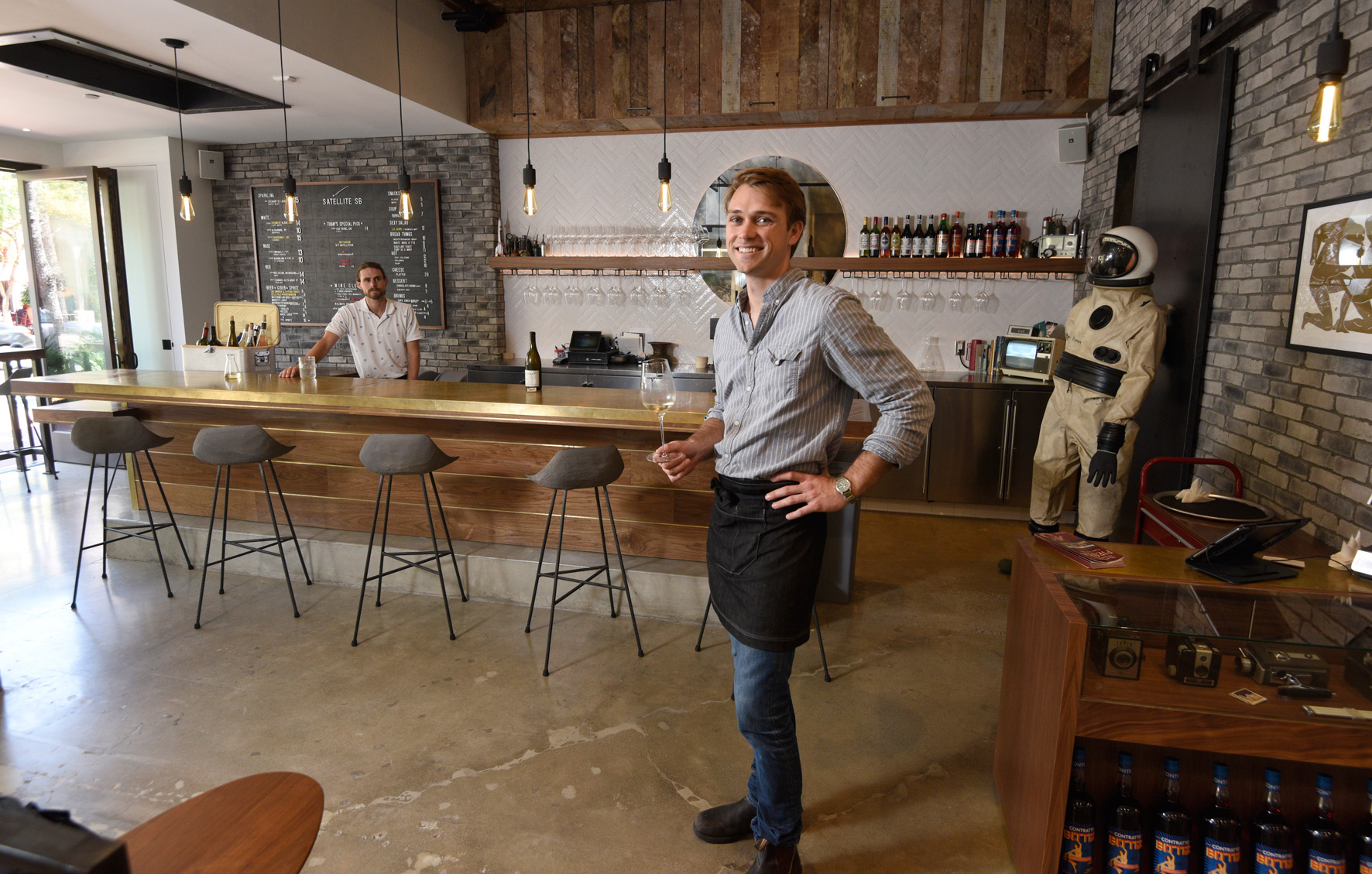 By Paul Wellman