Address: 3895 Sterrett Avenue
Status: On the market
Prices: $1,449,000
Mark my words. I've found the cutest house in Santa Barbara. Last Sunday afternoon, I visited 3895 Sterrett Avenue, a 1925 farmhouse that has been updated with modern amenities without losing an ounce of its vintage charm. It has a "man cave" and a "she shed," plus a putting green, a hot tub, and even a working claw-foot bathtub. But those extras are all on the outside. What stole my heart was the adorable house itself.
This three-bedroom, three-bath house sits on a quiet cul-de-sac between North Hope Avenue and North La Cumbre Road. It's a tall two-story, with a high-pitched, black-shingled roof with dormer windows peeking out from the top floor. White siding is accented by black shuttered windows and a bright-red door, all surrounded — of course — by a white picket fence.
Once you're inside the front door, the master bedroom wing lies to the left of the foyer and features a stunning spa bathroom that opens out onto the back deck. The other two bedrooms are upstairs and are about as charming as can be. Angled ceilings and treetop views ensure that these rooms will be envied by every kid who sees them. The shared bathroom features a white hexagon-tiled floor plus a great tub-and-shower combo with vintage-style fixtures that fits under the sloping ceiling in a combination of high style and quirky fun that's evident throughout this home.
Downstairs, the living room and kitchen are spacious gathering places where form meets function and doesn't sacrifice an ounce of style. Two sets of tall picture windows frame the stone fireplace in the living room, where white wood walls and a beamed ceiling add to the warmth. The kitchen is high-end and exudes country class, with a pantry, separate laundry room, and an eat-in dining area that opens onto the back patio.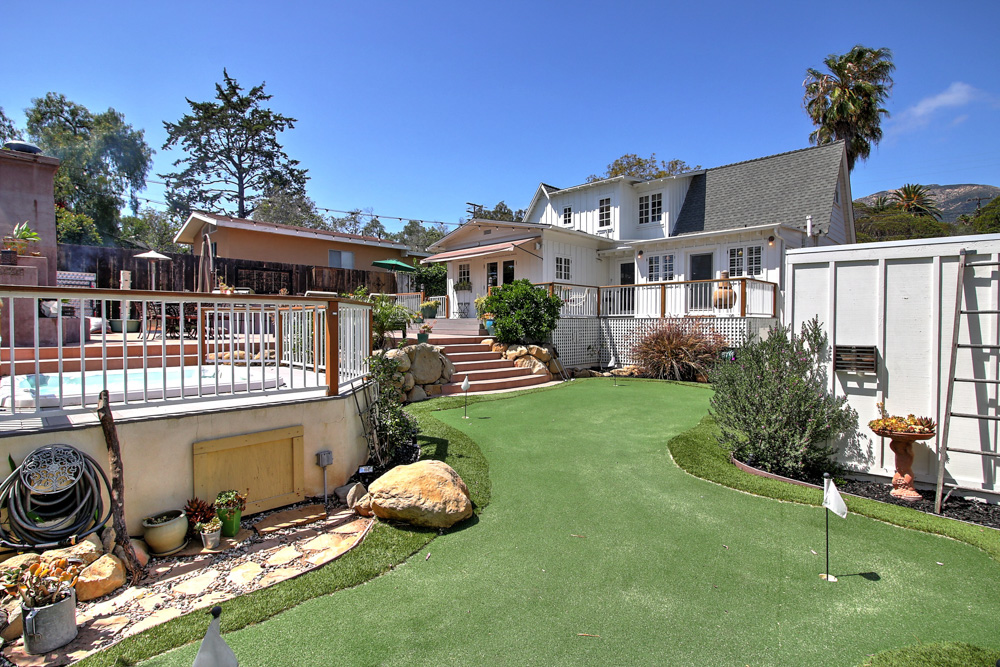 Kristin Renee Photography