Sheriff Bill Brown made the startling announcement Thursday afternoon that the number of people missing in the wake of Tuesday's devastating Montecito mudslides has swelled to 43. Earlier in the day, authorities had said eight people remained unaccounted for.
Seventeen people are confirmed dead, including four children. Among the adults are a noted hand surgeon, a popular real estate executive, and a college founder. A full list of their identities is published here. All were Montecito residents.
Brown explained the 43 figure includes individuals who are actively missing, as well as those that family and friends have been unable to contact. He said that number may continue to fluctuate.
Brown also announced that the "public safety exclusion zone" that covers most of Montecito and was created to keep bystanders at bay is being upgraded to a mandatory evacuation zone. Car and pedestrian traffic has grown so heavy, he said, that search and rescue and repair efforts are being hampered. "We're asking everyone in that area to leave," he said, including residents. The order went into effect at 6 p.m. Thursday evening, ahead of the arrival of more than 100 U.S. Army Corps of Engineers vehicles.
Areas under evacuation and at risk for flooding
The order will likely remain in effect for a week, possibly two. "We know this is a terribly inconvenient development, but it is also incredibly necessary," Brown said. The mandatory zone is bounded by the ocean to the south; Hot Springs Road to the west; U.S. Forest Service land to the north; and along Sheffield Drive, East Valley Road, and Ladera Lane to the east. A map of the area is published here.
A boil water advisory remains in effect for the entire Montecito area. Water managers were happy to report, however, that the South Coast Conduit ― the main pipeline artery that draws water from Lake Cachuma down to Montecito and the rest of the South Coast ― is intact. Authorities previously believed it had been severely damaged in the mudslides.
Montecito Water District manager Nick Turner said water service is available at low pressure north of East Valley Road, but supplies are still cut from areas below, as crews work to repair mains and replace hydrants. Turner said it's unknown when full service will be restored throughout district. "We are working hard, but it will take time," he said.
Health officials closed all Santa Barbara County beaches Thursday afternoon after fecal coliform concentrations ― generated by untreated storm runoff ― were detected 60 times higher than healthy levels in ocean waters between Gaviota Beach and the south county line. Highway 101 remains shut down between the Milpas Street exit to the north and Highway 150 to the south. The closure is expected to last through the weekend and into early next week.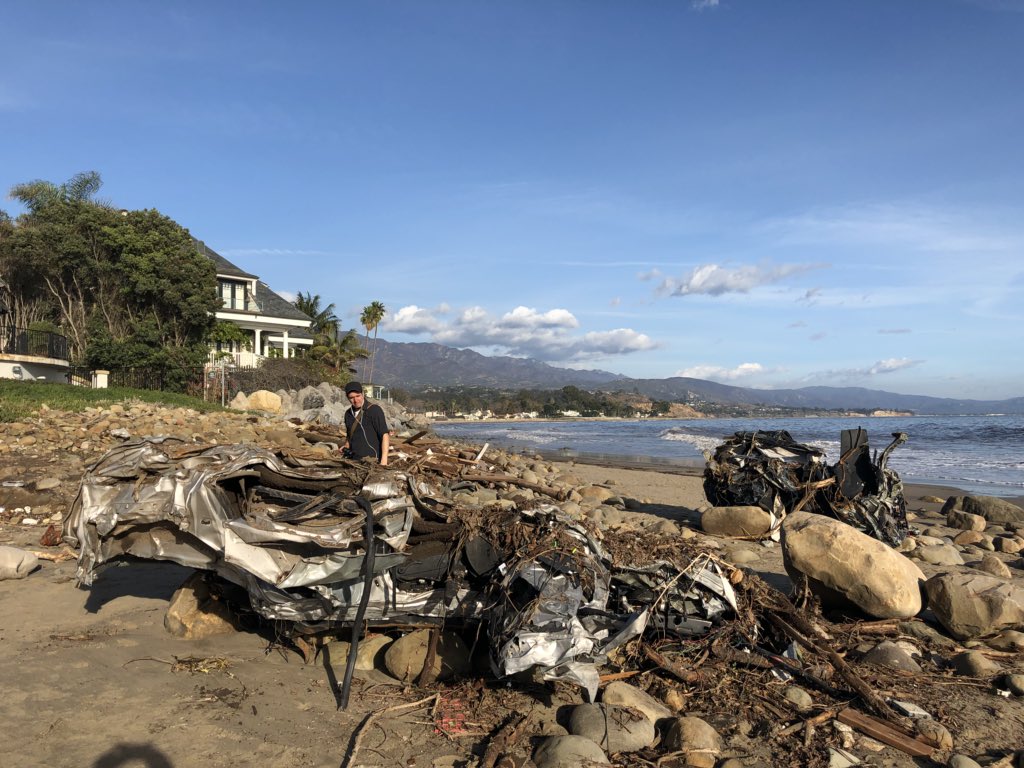 By Mike Eliason/ Santa Barbara Co Fire