Before January 9, few Montecitans had any concept of the cataclysmic power of debris flows, their Southern California disaster lexicon limited mostly to wildfires and earthquakes. "If you're a natural scientist and you hear 'debris flow,' you think, 'Oh god, that could kill people,'" said Sue Perry, a disaster specialist with the United States Geological Survey. "But no one else around here knows what that term means."
Perry, a Carpinteria resident, is part of of the federal agency's Science Application for Risk Reduction project that studies how emergency planners and public officials can more effectively convey the dangers of imminent threats to life and limb. She was brought on in the aftermath of last week's deadly storm to assess how successfully scientific information was understood and affected decisions. "There's going to be a lot of scrutiny after this," she said.
Santa Barbara's Office of Emergency Management (OEM) kick-started its public information campaign during a January 5 press conference, where National Weather Service, Cal Fire, flood control, and Sheriff's Office officials issued dire warnings to county residents about the ferocity of the upcoming rainstorm and its likely ability to send earth and water sweeping through neighborhoods below the Thomas Fire burn scar.
"We can't stress enough the fact that this is a significant risk to our community," said Public Works Deputy Director Tom Fayram. "The third area of concern is going to be people who live near water courses such as creeks," said OEM Director Robert Lewin, after describing two other danger zones as within and immediately around burn scar tissue. "[Creeks] can become raging rivers of water and mud and rocks and debris, and if you live near one of those, you need to understand that." Many people were killed when flows breached the walls of Montecito, San Ysidro, and Romero creeks.
Kevin Cooper, a biologist with the U.S. Forest Service, focused specifically on the peril of debris flows ― unstoppable avalanches of dislodged boulders and uprooted trees mixed with mud and water ― and advised residents to heed alerts if the weather turned especially nasty. "The alerts are going to be very important," he said.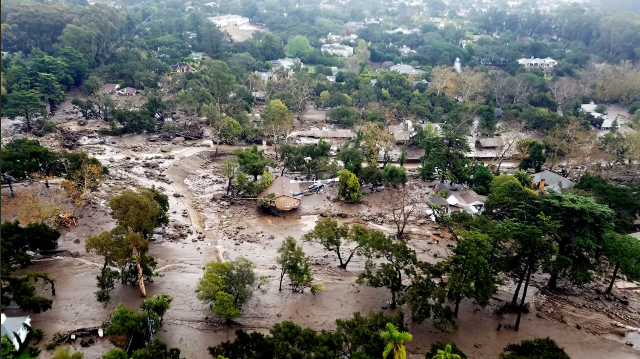 Mike Eliason