I first met Scott Claassen, the vicar of Saint Michael's University Church in Isla Vista, when I was a refugee from Montecito's San Ysidro Creek debris flow. That swollen waterway, freighted with wildfire debris, had destroyed in a heartbeat my residence of some forty years, along with my job, as well as an ecumenical chapel with a piano on which, every morning, I had developed a habit of venting my passion for Bach. So, putting first things first, I came to Scott seeking a piano.
Scott listened. He understood. And then he made it happen. After all, he used to play guitar alongside Willie Nelson and could not bear to see a fellow musician divorced from his ax.
The first thing I noticed in Scott's office was an array of photographs hanging on the wall. Closest to his desk shone the face of Martin Luther King. Then, those of Desmond Tutu, Dorothy Day, Gabriel García Márquez, Walt Whitman, and Jacqueline du Pré. Reigning above them all, though, towered a photo of a bearded man reposing beside a stream: an iconic image of John Muir. That ranking tells you a lot about Scott Claassen's priorities, with his concern for Earth almost utmost. Almost? Because atop his desk sit the photos of those closest to him: his wife, Maribeth Claassen, now pregnant again, and his two sons, Henry and James Muir.
The next thing you notice is a blue bicycle bearing signatures scrawled across its entire frame. In fact these are the wheels Scott pedaled around these United States, some 11,500 miles in all, during what he calls his Carbon Sabbath: a year he eschewed cars and airplanes to cycle from town to town and talk about climate change. Though now living a less mobile life, Scott has not given up on raising ecological awareness. That remains central in his present roles as vicar of Saint Mike's, as chaplain to UCSB students — and as a goofy foot.
For the uninitiated, being goofy foot means that Scott surfs in a maverick kind of way: with his right foot forward. And if you walk into St. Mike's Church, you will notice surfboards stacked along the walls five deep, making that sacred space appear nicely maverick as well: more Polynesian than Papal. This is because, through the church, Scott leads a merry group of surfing students in a program known as Surfing and Spirituality. Every Wednesday morning at 7 a.m., when most of Isla Vista is still dreaming, they steal down to the vast, mysterious, and endlessly rolling Pacific.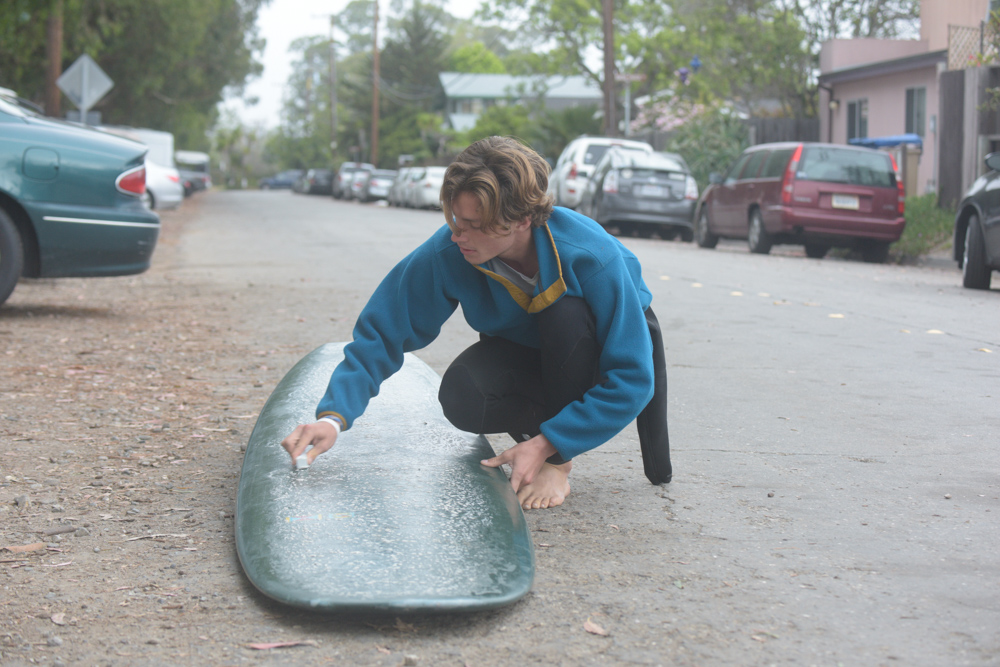 By Paul Wellman