It was expected to be a showdown at La Cumbre Country Club last Thursday when Santa Barbara High's girls' golf teed off against Dos Pueblos in the concluding match of the Channel League golf schedule. But the Dons had already clinched the team championship, ending an extraordinary run of success by Dos Pueblos. The Chargers had won or shared the title for 19 consecutive years.
"Most of the girls are going to their home schools," Chargers coach Dan Choi observed. "For years, the best golfers kept coming to Dos Pueblos. It's better for parity now."
The Dons, who had edged DP by two strokes at Glen Annie Golf Club last month, completed a 10-0 sweep through the league by outscoring the Chargers, 254-261. DP senior Gabby Minier was the best individual golfer. She was at even par through eight holes before a double bogey on the closing hole left her at 38, still eight strokes better than the next low scorer, Santa Barbara's Melia Haller with a 46.
Minier, whose father is a teaching pro at Glen Annie, said her strength is in the short game. "I don't hit that far, but I can chip it pretty close to the hole," she said. She intends to keep playing after high school and had a visit to Colorado State coming up.
"Gabby's been fantastic," Choi said. "She's super consistent. She has been the medalist in every match."
Santa Barbara was led by a pair of sophomores, Haller and Lizzie Goss, who shot a 48. Golf is not their only sport. Goss plays soccer for the Dons, and Haller is a surfer. Both have come to appreciate the challenge of the links.
"Golf is bipolar," Goss said. "It's very humbling. It looks so easy."
Haller said, "When I'm surfing with my friends, I never have a bad day. Golf can make me frustrated sometimes."
Haller started surfing at age 9, two years before she took up golf. "We live on the Mesa, and my dad took me out at Leadbetter Beach, and I loved it," she said. She competed last year in a Scholastic Surf Series event in Ventura — with surfers from Morro Bay to Santa Monica — and took first in the longboard division.
She spends more time on the golf course nowadays, Haller said. DP's Minier has taken notice. "Melia's improved a lot," she said. "She's trying really hard."
Santa Barbara will be a force in the league for some time to come. Malta Olhiser is the only senior on the team. "We have three sophomores and three juniors," Dons coach Ryan Throop said. "They get along well. They enjoy practicing, and they enjoy competing."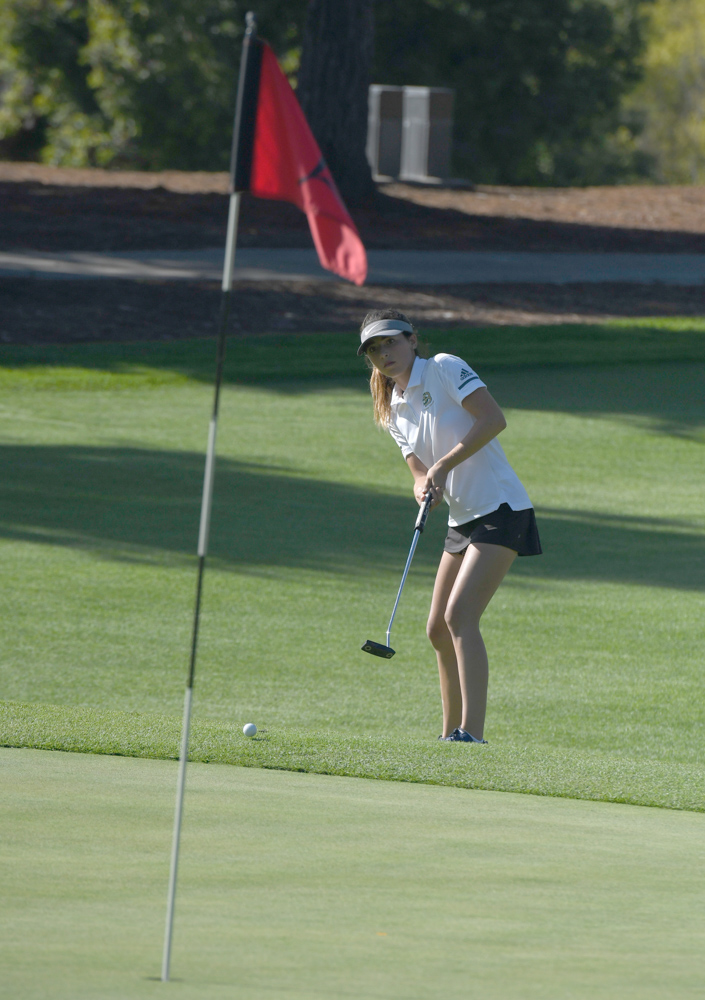 By Paul Wellman