Address: 1023 West Valerio Street
Status: Not for Sale
Price: Listing price was $769,000
When I heard that my friend Dan had just bought a house, I congratulated him — of course — and then I immediately asked if I could come over to visit, and possibly write about, his new home. He agreed wholeheartedly. As we were scheduling a time to meet, he admitted, "Today's a little hectic, because I'm asking my girlfriend to marry me this evening."
Fortunately, the proposal went off without a hitch, and she said yes. So my appointment to visit meant getting not only to see the new house but also to meet Addie, Dan's girlfriend turned fiancée. My visit included congratulations on their brand-new home and also on their engagement.
Dan is a Realtor, and Addie is a veterinarian, so strolling through their new home with their dog and cat happily following us around felt like I was seeing different aspects of their lives come together. The house is a two-bedroom, one-bath Spanish-style cottage on Santa Barbara's Westside. With a red-tile roof and a white stucco exterior, it sits happily on a large corner lot across from Harding School. A low brick wall curves around the edge of the front yard, with a pathway leading past a gracious, old oak tree with two steps up to the front porch. Just big enough for a sweet bench and a few potted plants, the porch is the perfect introduction to the house, enclosed by a short white wall that curves up to form the outline of the chimney, hinting at a fireplace within.
The front door opens into the living room, where big windows let in the light and show off the gleaming hardwood floors. The promised fireplace on the front wall is surrounded by a subtle white brick frame and graced with an inset niche above, in a charming contrast to a typical fireplace mantel. The house was built in 1930, and vintage details like this one remain.
From the entry, a hallway to the right leads to both bedrooms and the bathroom. A laundry room is tucked behind the master bedroom, with an entrance out to the garage beyond. Back through the living room, I am drawn to the kitchen that lies at the back of the house and is sure to be the heart of this home.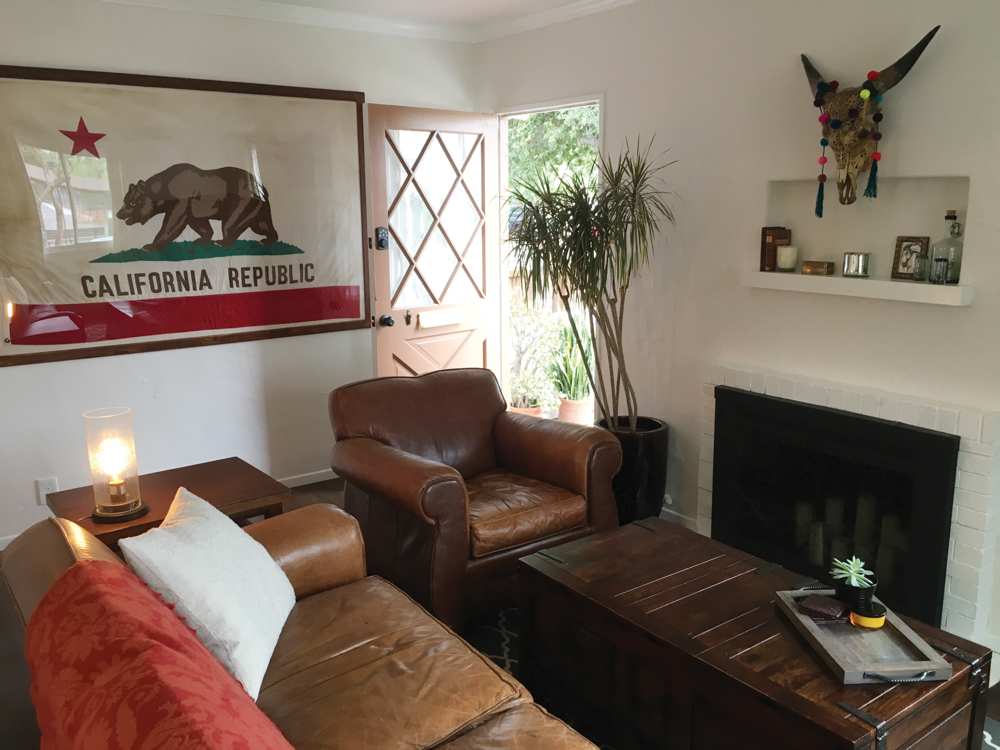 Kristin Renee Photography