A producer, director, actress, and self-proclaimed ardent lover of wigs, Melissa McCarthy proved herself once again as Hollywood's most delightful of polymaths on Sunday evening, when she became the recipient of the Santa Barbara International Film Festival's Montecito Award. The award intends to honor an individual who has contributed greatly to cinema and McCarthy, whose career began on the New York City stand-up comedy stage and now finds herself in the entrance hall of the Academy Award for Best Actress, is more than deserving.
McCarthy is known more for her comedic streak, as the kooky Sookie St. James on the beloved Gilmore Girls, the hilariously weird and weirdly crude Megan from Bridesmaids, and the best possible version of Sean Spicer the world will ever see. However, with her latest performance as the impossibly embittered but somehow enjoyable Lee Israel in Can You Ever Forgive Me?, McCarthy solidifies herself as a serious dramatic actress.
Highlight reels from McCarthy's films, which included Go, Charlie's Angels, The Heat, Tammy, Spy, The Hangover Part III, Ghostbusters, and her latest Oscar-worthy Can You Ever Forgive Me?, were introduced by moderator and IndieWire editor Anne Thompson at Arlington Theater which, despite the rain outside, was packed. The applause was thundering and the laughs aplenty as thousands gathered to listen for over an hour to the seasoned actress pick apart her fan-favorite roles and take the audience through her life; McCarthy went from a young farm-town girl to a devoted Groundlings student at the famed Los Angeles improv school to an awards season regular.
McCarthy noted her first dip into acting began with her obsession with costumes during high school theater. Costumes "let you be who you want to be [and] step in other people's shoes," she said, and it was this love of fashion that prompted her bold move to New York City from Southern Illinois where she was studying in college. "I thought I should take time off of not going to class," she joked. One day into life as a New Yorker, however, and McCarthy found herself not in the backroom designing costumes, but on stage at a comedy club.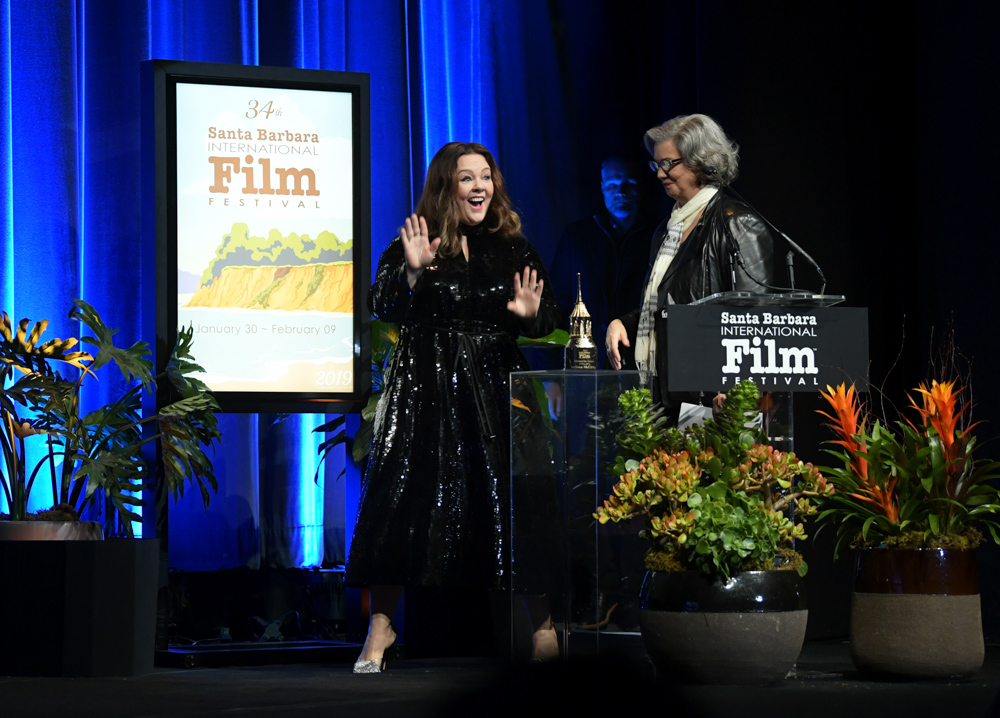 Emma McIntyre/Getty Images for SBIFF