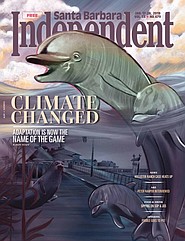 For the third straight year, the Santa Barbara Independent presents its annual Homes & Gardens special section, a roundup of profiles, advice, and insight into what makes our developed and cultivated landscapes thrive. This year's edition looks at a tiny home built by high schoolers, the history of adobe construction, how to make your yard look like Lotusland, and much, much more.
TOC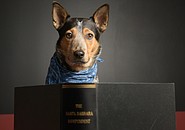 What's the best part about hanging at the Indy office? Snacks! Snacks are the best part of everything! There is one human at the Indy who fills me with chicken and pastries. I'm quite fond of all types of chicken — roasted, baked, boiled, braised, fried, grilled, cooked, seasoned, plain … Chicken.   

Any particularly fun smells you've encountered recently? I'm so glad you asked about smells! Humans don't give smells enough credit. Really the best smell is myself! I have a blanket under my human's desk, and it smells just like me which makes me feel really happy when I sleep on it. 

Outside of the office, what are your interests and hobbies? Besides chicken, balls are my greatest joy. It's unfortunate that I'm dependent upon my human to throw the ball, because I could chase balls all day. Seriously, dude. All. Day. 

If you could give one piece of advice to a new office pet, what would it be? Try not to bark. They don't like it when you bark …
In Print
Selected stories from our weekly newspaper.
Adaptation Is Now the Name of the Game
With the weather growing ever weirder, adaptation is now the name of the game. Read story.
Can City Hall Find a Way to Save Beaches and Property Before It's Too Late?
The City of Santa Barbara struggles to adapt to rising sea levels and save beaches and property. Read story.
Flora Are the Foundation of All Habitats and Will Help Stave off Ecological Collapse
Flora are the foundation of all habitats and will help stave off ecological collapse. Read story.
Opting Out Is No Longer an Option
Opting out is no longer an option. Read story.
Media Psychologist Explains How Emotion, Not Data, Is the Key to Action
A media psychologist explains how emotion, not data, is the key to action. Read story.
Can UCSB Scientists Help 'Climate-Proof' Important Seafoods?
Can UCSB scientists help 'climate-proof' important seafoods? Read story.
Can This Liquor-Making Plant Correct California's Parched, Fire-Prone Landscape?
Can this liquor-making plant correct California's parched, fire-prone landscape? Read story.
Exhibit Shows How Women's Place in Society Expanded and Evolved
Exhibit shows how the perception of a woman's place in society expanded and evolved. Read story.
Our Annual Photographic Review of the Year That Was
Our annual photographic review of the year that was. Read story.
Our Annual Collection of Stories About Hometown Organizations Doing Global Good
Our annual collection of stories about hometown organizations doing global good. Read story.
Linda Cole's Santa Barbara-Based Nonprofit Works on Education, Farming, Literacy, and More
Linda Cole's Santa Barbara-based nonprofit works on education, farming, literacy, and more. Read story.
New Summerland Office Spreads Reach Even Further
A new Summerland office is spreading the relief organization's reach even further. Read story.
Santa Barbara-Based Organization Distributes "Luke Lights" for Education, Global Health, and Disaster Relief
Santa Barbara-based organization distributes "Luke Lights" for education, global health, and disaster relief. Read story.
San Marcos Teacher Talks Job, Students, and Hopes for Future
San Marcos teacher talks job, students, and hopes for the future. Read story.
Community Arts Music Association Celebrates Centennial
Community Arts Music Association celebrates its centennial. Read story.