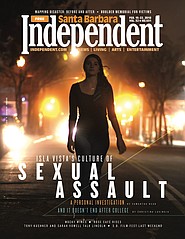 On March 18 and 19, the oaken lakeside grounds in Santa Ynez will be alight with the glow of stars, both celestial and of the indie-rock variety. For the first time, the Starry Nites Festival is set to rock the Live Oak Campground with a colorful pastiche of indie-rock, classic-rock, and psychedelic-rock acts such as Alan Parsons, The Kills, Cat Power, The Dandy Warhols, She Wants Revenge, and many more. The festival, started by Tommy Dietrick and Kerry Brown of Joshua Tree's Desert Stars Festival, kicks off a festival season that also includes the culmination of Lucidity Festival before its transformation into something as yet unknown (see future issues for deeper coverage on Lucidity). For now, we spoke with Starry Nites' founders about what makes this festival unique, plus interviews with Alan Parsons, She Wants Revenge, and Kolars.
TOC

"Recently, I was standing on top of an ATV, collecting lace lichen from the branches of an oak tree for a project," Sally Isaacson recalled. "I had a big dog named Lola with me. She started barking and suddenly backed up very quickly. I heard noises in the brush, and soon Lola went in and came out with a fresh deer leg." Living near Gaviota has given Isaacson glimpses of rare wildlife, like the mountain lion she and Lola encountered. It's an awareness the botanist refined wandering the Irish countryside as a girl among the flowers and wild animals. "Lately, my passion has been teaching my little granddaughter about animals and plants," Isaacson said, a sense of wonder and adventure that sparks her Backyard Wildlife column, found here.
In Print
Selected stories from our weekly newspaper.
A Personal Investigation into Hookup Culture and its Gruesome Consequences
A personal investigation into hookup culture and its gruesome consequences. Read story.
Sexual Violence Continues on the Streets of Santa Barbara
Sexual violence continues on the streets of Santa Barbara. Read story.
The Fire and Its Aftermath Made This Year's Competition Special
The fire and its aftermath make this year's competition special. Read story.
Festival Heads into Last, Long Weekend
Heading into the last, long weekend of events, there is still plenty to do and see. Read story.
Fascinating Films, Acclaimed Actors, and More
From Oscar nominees to art-house indies, the schedule is packed with films for all. Read story.
Legal Tangles Leave Santa Barbarans Wondering: 'Dude, Where's My Weed?'
Legal tangles leave Santa Barbarans wondering: 'Dude, where's my weed?' Read story.
What to Expect When You Walk Into Your First Cannabis Retailer 
What to expect when you walk into your first cannabis retailer.  Read story.
From Where to Start to When to Harvest, Here Are Seven Must-Know Steps to Planting Pot in Santa Barbara
From where to start to when to harvest, here are seven must-know steps to planting pot in Santa Barbara. Read story.
Tracing the History and Coping with the Reality of 20 Lost and Three Still Missing
Tracing the history and coping with the reality of 20 lost and three still missing. Read story.
17 People Killed and 100 Homes Destroyed in Post-Thomas Fire Disaster
Seventeen people were killed and 100 homes were destroyed in the post-Thomas Fire disaster. Read story.
How the Santa Barbara Zoo Is Helping Save the Big Cats from Extinction
How the Santa Barbara Zoo is helping save the big cats from extinction. Read story.
The Santa Barbara Independent's Annual Visual Review of the Year That Was
The Santa Barbara Independent's annual visual review of the year that was. Read story.
Beast Still Breathes Despite Saturday's Epic Firefight in the Montecito Foothills
Insight and analysis on the beast that still breathes despite Saturday's epic firefight in the Montecito foothills. Read story.
Victims Participated in Santa Barbara Youth Theater
Victims participated in Santa Barbara Youth Theater. Read story.
242,500 Have Gone Up in Flames Across Two Counties
The Thomas Fire burns 242,500 acres across Ventura and Santa Barbara counties. Read story.