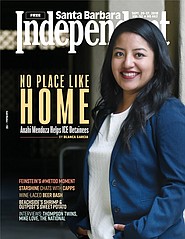 For the third straight year, the Santa Barbara Independent presents its annual Homes & Gardens special section, a roundup of profiles, advice, and insight into what makes our developed and cultivated landscapes thrive. This year's edition looks at a tiny home built by high schoolers, the history of adobe construction, how to make your yard look like Lotusland, and much, much more.
TOC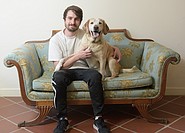 Name: Ben Greenberg

Title: Graphic Designer

Describe your job for folks out there. I'm a graphic designer for the advertising production team. I design and touch up the ads you see in the paper, and I get to create new art all the time. It's absolutely awesome! I'm still pretty new, but I'm learning so much every day.

What's something about the Independent our readers might not realize? I don't think the average reader has an idea of just how few people make up the Indy. They may see a 100-page issue that was created in a week and assume we have a huge team, but it really is just a tight group of great people doing what they're passionate about for the community they love.

What do you do when you're not busting your hump at the office? When I'm not here or freelancing, I like to listen to and make heavy music and play with my dog, Auggie (also pictured), and, after a rough week, I like to be a lazy couch potato.
In Print
Selected stories from our weekly newspaper.
One Hometown Organization Helps Keep Residents Out of Detention Centers
How Anahi Mendoza and a Santa Barbara County organization help win bail for residents in ICE detention centers. Read story.
Who Is Crazy and Who Is Insane in the Jails and Courts and on the Streets
Who is crazy and who is insane in the jails and courts and on the streets? Read story.
Performance Is Full of Relentless Imaginative Variations
This performance is full of relentless imaginative variations that are the company's lifeblood. Read story.
All Resident Artists Return for 10th Anniversary
All resident artists return for the program's 10th anniversary. Read story.
'Santa Barbara Independent' Presents Ninth Annual Ode to Eating Out
The 'Santa Barbara Independent' presents its ninth annual ode to eating out. Read story.
Glory and Defeat Are All Part of the Game
Glory and defeat are all part of the game. Read story.
David Obst Helps Get Seymour Hersh's Explosive Story to the People
David Obst helps get Seymour Hersh's explosive story to the people. Read story.
Pulitzer Prize–Winning Journalist Pens Memoir
Pulitzer Prize–winning journalist pens memoir. Read story.
Neighborhood Book Exchange Fosters Reading and Community
Neighborhood book exchange fosters reading and community. Read story.
From Little Free Libraries to Reading Lists to Interviews with Literary Luminaries
It's all about the printed page — from Little Free Libraries to an Indy staff reading lists to interviews with area literary luminaries. Read story.
Books We Love — From Mystery to Romance to History
The books we love — from mystery to romance to history. Read story.
Santa Barbara Spiritualism Then and Now
Santa Barbara Spiritualism then and now Read story.
Check Out All There Is to Do When Class Ends with Our Complete Listings
Find just the right activities for kids ages 2-19 to participate in when class ends, including dance, arts, education, social groups, sports, and more. Read story.
Experts from Across the Country Offer Advice on Improving Santa Barbara's Main Drag
Experts from across the country offer advice on improving Santa Barbara's main drag. Read story.
The Complete Guide to Fiesta 2018
Use S.B.'s complete guide to this year's Fiesta celebration to make your plans, from parades and performances to food, music, and more. Read story.