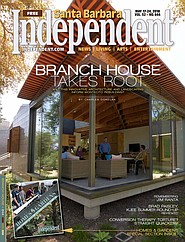 For the third straight year, the Santa Barbara Independent presents its annual Homes & Gardens special section, a roundup of profiles, advice, and insight into what makes our developed and cultivated landscapes thrive. This year's edition looks at a tiny home built by high schoolers, the history of adobe construction, how to make your yard look like Lotusland, and much, much more.
TOC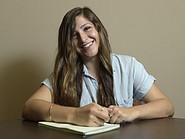 For our copy desk intern, Nicole Kludjian, the end of UCSB's spring quarter concludes a two-and-a-half-year stint with SexInfo Online, where she's been editor in chief. She landed the gig after taking John and Janice Baldwin's Sociology of Human Sexuality. Explained Nicole, "Soc 152A is one of those classes everyone takes. It's taught by an adorable older couple who talk about sex in the most accessible way." To the most common question asked at SexInfo — "Am I pregnant?" — Nicole advises, "Get a pregnancy test, understand that pre-cum can contain active sperm, invest in birth control, and always be aware of STIs/STDs."
In Print
Bringing Safer Ways for Law Enforcement to Work with People with Mentally Illness
Sheriff's Lieutenant Eddie Hsueh brings safer ways for law enforcement to work with people with mental illness. Read story.
A Personal Investigation into Hookup Culture and its Gruesome Consequences
A personal investigation into hookup culture and its gruesome consequences. Read story.
Sexual Violence Continues on the Streets of Santa Barbara
Sexual violence continues on the streets of Santa Barbara. Read story.
The Fire and Its Aftermath Made This Year's Competition Special
The fire and its aftermath make this year's competition special. Read story.
Festival Heads into Last, Long Weekend
Heading into the last, long weekend of events, there is still plenty to do and see. Read story.
Fascinating Films, Acclaimed Actors, and More
From Oscar nominees to art-house indies, the schedule is packed with films for all. Read story.
Legal Tangles Leave Santa Barbarans Wondering: 'Dude, Where's My Weed?'
Legal tangles leave Santa Barbarans wondering: 'Dude, where's my weed?' Read story.
What to Expect When You Walk Into Your First Cannabis Retailer 
What to expect when you walk into your first cannabis retailer.  Read story.
From Where to Start to When to Harvest, Here Are Seven Must-Know Steps to Planting Pot in Santa Barbara
From where to start to when to harvest, here are seven must-know steps to planting pot in Santa Barbara. Read story.
Tracing the History and Coping with the Reality of 20 Lost and Three Still Missing
Tracing the history and coping with the reality of 20 lost and three still missing. Read story.
17 People Killed and 100 Homes Destroyed in Post-Thomas Fire Disaster
Seventeen people were killed and 100 homes were destroyed in the post-Thomas Fire disaster. Read story.
How the Santa Barbara Zoo Is Helping Save the Big Cats from Extinction
How the Santa Barbara Zoo is helping save the big cats from extinction. Read story.
The Santa Barbara Independent's Annual Visual Review of the Year That Was
The Santa Barbara Independent's annual visual review of the year that was. Read story.
Beast Still Breathes Despite Saturday's Epic Firefight in the Montecito Foothills
Insight and analysis on the beast that still breathes despite Saturday's epic firefight in the Montecito foothills. Read story.
Victims Participated in Santa Barbara Youth Theater
Victims participated in Santa Barbara Youth Theater. Read story.