For the third straight year, the Santa Barbara Independent presents its annual Homes & Gardens special section, a roundup of profiles, advice, and insight into what makes our developed and cultivated landscapes thrive. This year's edition looks at a tiny home built by high schoolers, the history of adobe construction, how to make your yard look like Lotusland, and much, much more.
TOC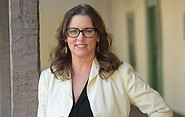 Camie Barnwell covered education locally for many years before her career took her in new directions. She recently earned her master's in academic counseling and her PPL credential. She works as an admissions advisor at Fielding Graduate University and moonlights as a college advisor and essay coach for high school students navigating the college application process. She also occasionally contributes to the Santa Barbara Independent, particularly during Fiesta but, most recently, for our annual education issue.
In Print
Glory and Defeat Are All Part of the Game
Glory and defeat are all part of the game. Read story.
David Obst Helps Get Seymour Hersh's Explosive Story to the People
David Obst helps get Seymour Hersh's explosive story to the people. Read story.
Pulitzer Prize–Winning Journalist Pens Memoir
Pulitzer Prize–winning journalist pens memoir. Read story.
Neighborhood Book Exchange Fosters Reading and Community
Neighborhood book exchange fosters reading and community. Read story.
From Little Free Libraries to Reading Lists to Interviews with Literary Luminaries
It's all about the printed page — from Little Free Libraries to an Indy staff reading lists to interviews with area literary luminaries. Read story.
Books We Love — From Mystery to Romance to History
The books we love — from mystery to romance to history. Read story.
Santa Barbara Spiritualism Then and Now
Santa Barbara Spiritualism then and now Read story.
Check Out All There Is to Do When Class Ends with Our Complete Listings
Find just the right activities for kids ages 2-19 to participate in when class ends, including dance, arts, education, social groups, sports, and more. Read story.
Experts from Across the Country Offer Advice on Improving Santa Barbara's Main Drag
Experts from across the country offer advice on improving Santa Barbara's main drag. Read story.
The Complete Guide to Fiesta 2018
Use S.B.'s complete guide to this year's Fiesta celebration to make your plans, from parades and performances to food, music, and more. Read story.
One of the Largest Equestrian Parades in the United States
El Desfile Histórico is Santa Barbara's Fiesta celebration of the horse and one of the largest equestrian parades in the United States Read story.
Why Santa Barbara's Main Drag Is Suffering and How to Fix It
Our report on why Santa Barbara's main drag Is suffering and suggestions on how to fix it. Read story.
A Guide to Making Your Golden Years Shine in Santa Barbara
A guide to making your golden years shine in Santa Barbara. Read story.
Twenty-Four Blackbirds, Chocolate Maya, and Santa Barbara's Place in America's Craft Chocolate Revolution
Twenty-Four Blackbirds, Chocolate Maya, and Santa Barbara's place in America's craft chocolate revolution. Read story.
Santa Barbara Zoo Hosts Two of the Australian Natives
Santa Barbara Zoo hosts two of the adorable Australian natives. Read story.