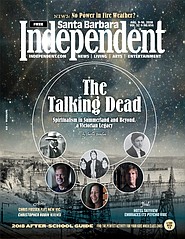 For the third straight year, the Santa Barbara Independent presents its annual Homes & Gardens special section, a roundup of profiles, advice, and insight into what makes our developed and cultivated landscapes thrive. This year's edition looks at a tiny home built by high schoolers, the history of adobe construction, how to make your yard look like Lotusland, and much, much more.
TOC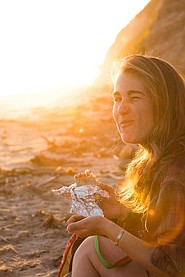 Name: Bryce Aston

Title: Copy Desk Intern

Copy editors are the unsung heroes of all publications. It's definitely not the job you go into for glory. But — without talking us up too much — I'd agree: copy editors are the backbone, or at least a few vertebrae, of every publication. You'd be surprised how many misspelled names and misused commas we've saved the world from.

What do you enjoy most about the copyediting process? The satisfaction. There's a very clean, rewarding feeling in having picked through something so thoroughly that you think, "All right. This is the best product we can put out, and I helped ensure that." I take a lot of pride in the publications I work for, and I enjoy trying to make them their best.

What's the trickiest part about it? Picking your battles. When you're on the fourth proofread and notice a minor issue that you missed before, sometimes you just have to walk away — especially when it's something only the copy editors of the world would notice and/or care about.
In Print
UCSB Students Get Close to Creation on the Waves
Isla Vista Chaplain Scott Claassen connects UCSB students to the creation by riding the waves. Read story.
Our Second Annual Celebration of America's Favorite Food
It's our second annual celebration of America's favorite food. Read story.
Longest Day of the Year Gets a Hero's Welcome
The longest day of the year gets a hero's welcome with parades, food, and fun. Read story.
How to Kayak from the Mainland to Channel Islands National Park
How to kayak from the mainland to Channel Islands National Park. Read story.
'Santa Barbara Independent' Annual Adventure Guide to the Great Outdoors
The "Santa Barbara Independent" annual adventure guide to the great outdoors. Read story.
Free Monthly Class Every Second Saturday Combines Fresh Air, Art Skills, and Camaraderie
Free monthly class every second Saturday combines fresh air, art skills, and camaraderie. Read story.
Four Reasons Why You Should Volunteer in the Los Padres National Forest
Here are four reasons why you should volunteer to work in Los Padres National Forest. Read story.
Teresa Ramallo-Whalen Now Renting Beach Shacks on Santa Barbara Shoreline
Teresa Ramallo-Whalen now renting beach shacks on Santa Barbara shoreline. Read story.
Why Popular Routes Remain Closed; Plus, Hiking News from Ojai
Why popular routes remain closed; plus, hiking news from Ojai. Read story.
Find Adventure, Advocacy, and Amore with the Santa Barbara-Ventura Group
Find adventure, advocacy, and amore with the Santa Barbara-Ventura group. Read story.
Companies to Help You Enjoy the Great Outdoors
Check out these companies to help you enjoy the great outdoors. Read story.
Professor Allison Alvarado Teaches Ornithology to CSU Channel Islands Students
Professor Allison Alvarado teaches ornithology to CSU Channel Islands students. Read story.
The Unsolved Mystery of One of the 20th Century's Most Sensational, Brutal Murders
The unsolved mystery of one of the 20th century's most sensational, brutal murders. Read story.
More Than 60,000 County Residents Live in Poverty and Struggle for Their Next Meal
More than 60,000 county residents live in poverty and struggle for their next meal. Read story.
Santa Barbara County Has the Highest Child Poverty Rate in California
Santa Barbara County has the highest child poverty rate in California. Read story.