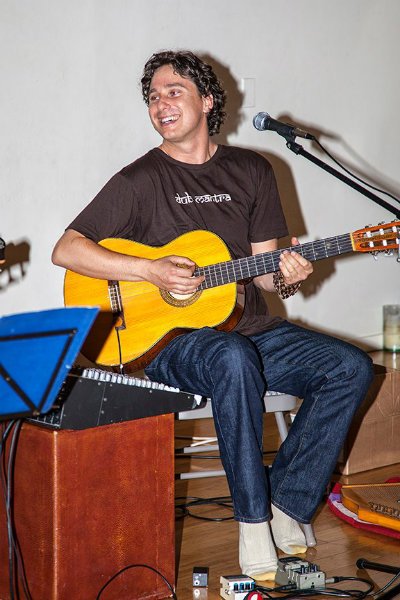 Joss Jaffe

"A Golden Mantra"
"Strength of My Love"

Musicians
Sound description: Sanskrit Mantras and English adaptations merged with Reggae Rhythms

"It feels like a natural marriage: Mesmerizing and uplifting aspects of Sanskrit chant laid over hypnotic beats and bass lines that comprise dub reggae rhythms … it seems obvious now that this unique musical combination works tremendously well" - LA YOGA

"Jaffe has been perfecting the reggae-Sanskrit nexus ever since high school and his love for both forms of music date back even earlier" - Montecito Journal

"Dub Mantra. Because reggae and Sanskrit mantras go together like peanut butter and marshmallow fluff." - SB Independent

RIYL: Matisyahu, Jai Uttal, Jack Johnson
Web site: http://www.josstunes.com/releases
Email: dubmantra@gmail.com
History
Dub Mantra is a labor of love that started in December of 2009 when Joss Jaffe wrote a new years resolution on a piece of paper and mailed it to himself saying "I am creating a new album."
Recording began in January of 2011 in Berkeley CA. The project was blessed with the collaboration of highly talented artists including well-respected Indian vocalist RIta Sahai, master sarode player Montino Bourbon, acclaimed cellist Michael Knapp, and Sanskrit scholar/Jamaican vocalist Sasi Ian Mair.
The album was mixed between fall 2011 and February of 2012 and mastered at Precise Mastering in the UK (Horace Andy, Gregory Isaacs, the Dub Pistols). The album art features Santa Barbara visionary watercolor artist Meganne Forbes. The CD, Jaffe's second full-length solo CD, was formally released in March 2012. It has been a long and inspiring journey.
The album has been well received in the both the worlds of yoga and reggae, which Joss hopes are increasingly merging together. The album spent several weeks at the top of the CD Baby best sellers list in both the Dub Reggae, and World Chants category and has been positively reviewed in LA Yoga, Southern California's premiere yoga magazine.
Upcoming shows
None scheduled
Formed
1980, Santa Barbara, CA
Influences
Ali Akbar Khan, Bob Marley
Current status
Joss Jaffe currently resides in Oakland CA as a musician and solar designer of photovoltaic systems. In addition to performing his own music, Joss enjoys accompanying many of the top yoga musicians and teachers in the world today including: Jai Uttal, Dave Stringer, Saul David Raye, Shiva Rea, Jaya Lakshmi, Suzanne Sterling and Girish.