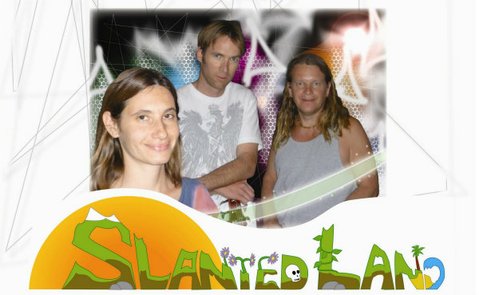 Slanted Land

"For Your Word"

Musicians
Genres: Alternative, Folk, Indie, Jam
Sound description: Vividly inventive. Driving, intricate bass, kickin' drum beats, ripping trippy guitar, and raw, shadowy-angelic lyrics.
RIYL: Audacious and heartfelt indie rock & roll.
Email: slantedland@rocketmail.com
History
After years of rocking and performing with various bands locally, nationally and internationally as individuals, the members of Slanted Land have joined forces to lay down counter culture grooves and melodies. Locally, Slanted Land has rocked the stage at Euphoria Hookah Lounge, Westside-A-Palooza at Oak Park, the Lunacy Stage at the inaugural Lucidity Festival at Live Oak Camp and at SOhO Restaurant and Music Club.
Upcoming shows
None scheduled
Formed
2011, Santa Barbara, CA
Influences
Beck, Ani DiFranco, Grateful Dead, Alanis Morissette, Tracy Chapman, Sia, Brian Eno, John Cage, Bob Dylan, Pink Floyd, kabbalah, and so much more!
Current status
We jam and we have fun.