In January 2007, Valarie and Greg Neaderbaomer were finally ready to adopt a child. After researching online and visiting various agencies, the couple decided to do their adoption through Adoption International Program (AIP). They had seen a little girl from Kazakhstan on the Internet, and Orson Mozes, the Montecito-based director of AIP, told them she was still available. So the Temple City, California, couple started to proceed with the adoption.
And what a process it was. Thousands of dollars-often more than $8,000 up front for AIP applicants-police and FBI background checkups, repeated doctor appointments, multiple social worker visits, a full financial audit, and more were all part of the time-consuming and costly process to adopt the girl. Valarie estimated that they had to have more than five pounds of paper documents notarized, then notarized again. "It's just a lot and hard to explain," she recalled earlier this year. "The paperwork is not easy."
In the meantime, Mozes sent the couple updated photos of their soon-to-be-daughter, photos they would put on their refrigerator as they prepared for their new child's arrival. All along, Mozes assured them their child was waiting for them, healthy and happy. "And then," said Valarie, "it just all fell apart." Paperwork stopped being processed, and they soon discovered that Mozes, or anybody for that matter, could not hold any Kazakhstani child for adoption-the Central Asian republic allows families to be matched with a child only after meeting several children at an in-country orphanage. "He wasn't supposed to be doing that," said Valarie, "let alone promising kids to multiple families."
By the time the adoption failed, the Neaderbaomers had spent about $15,000. But the money is just a fraction of the pain for prospective parents who are blocked from adopting the child they've fallen for. "It was very frustrating at the time, and very emotionally draining," said Valarie, who would later learn that Mozes had promised the same girl to two other families. Throughout time-and via the power of the Internet-the couple found other families experiencing similar issues and heard sad story after sad story about the heartlessly fraudulent practices of Orson Mozes and AIP. But while the culprit was a constant, the deceit often was not the same.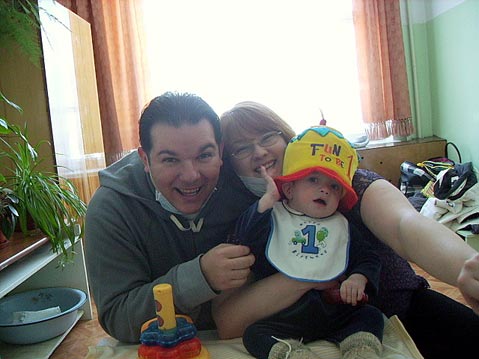 courtesy de lorenzo family