Joanne Irene Donohue
1927 - 2011, Santa Barbara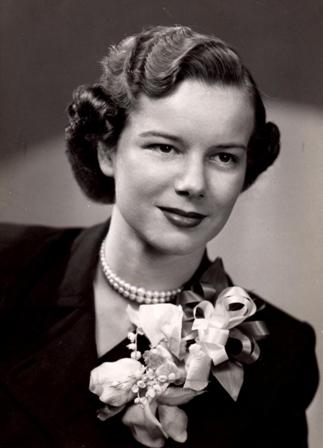 January 26th 1927-December 15th, 2011

Joanne Irene Donohue, lovingly known as "Jona", softly and peacefully left this earth in the early hours of December 15th, 2011 at Serenity House in Santa Barbara Ca. Beloved mother, grandmother, mother-in-law, aunt and friend, Jona was born on January 26th 1927, in Sioux City Iowa, to Agnes and Joseph Caba. It was in Sioux City in those early years attending Cathedral High that she would form life long friendships with kindred souls, who would come to be known as the "Club Ladies." In 1951, after a whirlwind romance, Jona married John J. Donohue Jr., a colorful Irishman from Sioux City, and a championship golfer.
Jona was gifted with a quirky and irreverent sense of humor that immediately disarmed and put at ease whomever she was with. She lived her life fearlessly and fully. In 1984, at the age of fifty-seven Jona suffered a massive heart attack with complications that semi-paralyzed her right leg and caused subsequent nerve damage. She endured great physical pain over many years with grace and courage, never losing her sense of humor. In the meantime, despite her compromised leg, she perfected her golf game and won many championships in Santa Barbara, her home for over 30 years.
Jona's professional life included work as a copywriter for JC Penney in Chicago, as a draftsman for the City of Santa Barbara and as a Configuration Analyst for Renco Corporation in Santa Barbara. She was also a gifted artist with a particular knack for cartooning and illustration.
Jona had a huge and tender heart and leaves behind the legacy of kindness and the healing balm of laughter. She will be dearly missed. Preceded in death by her brothers, James R. Caba and Gerald Caba, and by her sister Rosemary Caba, she is survived by the children she deeply loved; John J. Donohue III, Dennis Joseph Donohue, Deborah Mary Donohue Wills, James Coleman Donohue, Callan Loessberg, and Mary Jill Donohue. She also leaves behind many grandchildren and great grandchildren that hold her memory in their heart, known to them as "Ocean Grandma."
There will be a Celebration of her life on Saturday, January 28th, 2011. Call (805) 452-8674 for information. The family would like to extend their thanks to Sarah House (where she lived for many months) and to all at Serenity House who welcomed her and lovingly cared for her in her last two months. Donations to either may be made in her name in lieu of flowers.

Life Goes On

If I should go before the rest of you
Break not a flower
Nor inscribe a stone
Nor when I am gone
Speak in a Sunday voice
But be the usual selves
That I have known

Weep if you must
Parting is hell

But life goes on
So…sing as well

Joyce Grenfell
1910-1979