Drink "728"on 7/28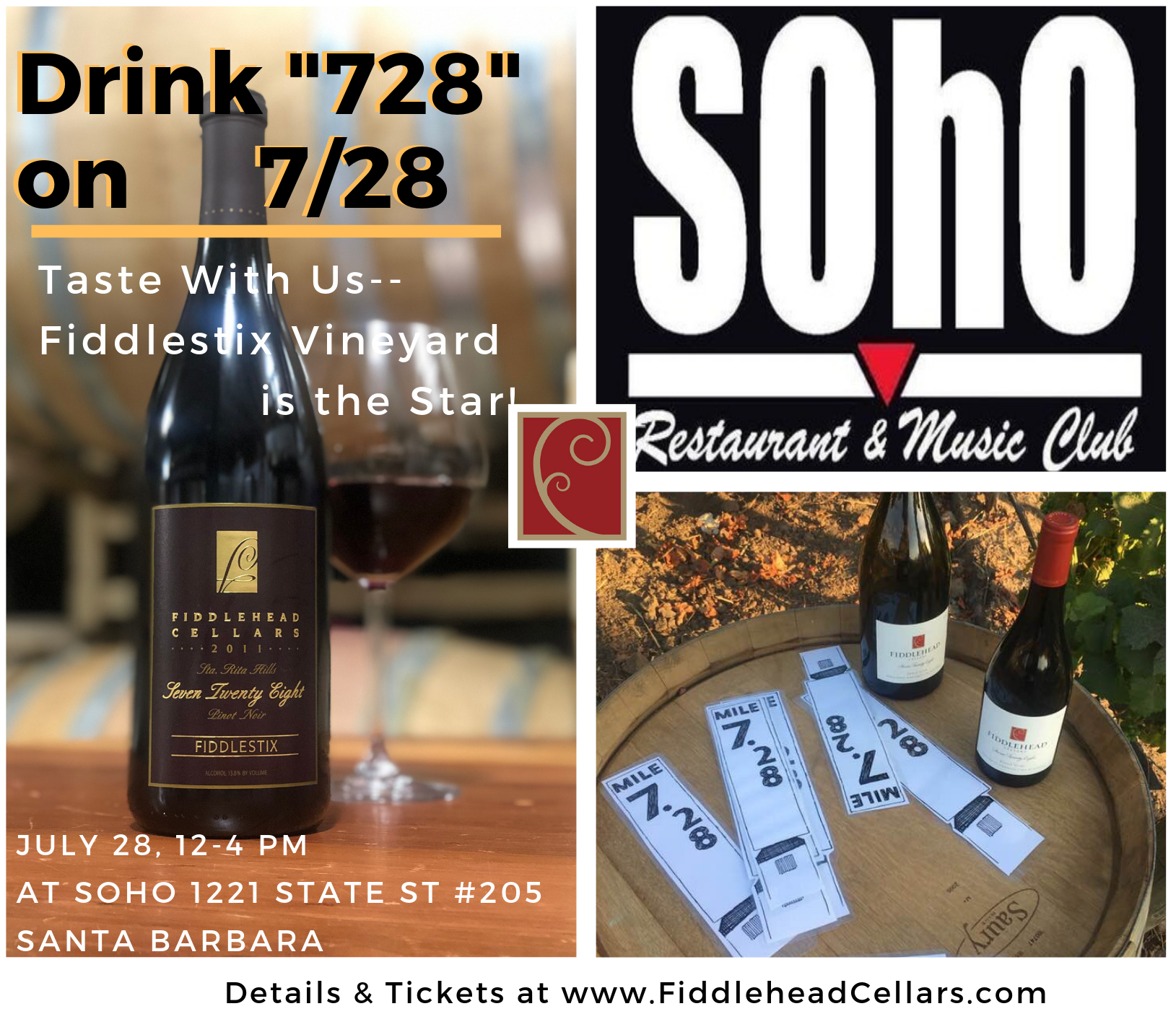 Best Bet
SOhO Restaurant & Music Club
ADDRESS (map)
1221 State St #205, Santa Barbara, CA 93101
VENUE
SOhO Restaurant & Music Club
Join us for the Fiddlehead party of the year, it's going to be a Lollapalooza!
This year on Sunday, July 28 (12-4pm), we take our "Drink 728 on 7/28" celebration on the road to SOHO Restaurant & Music Club, Santa Barbara. We will eat, drink and be merry… all in the name of our famed Fiddlestix Vineyard, located in the heart of the famous Sta. Rita Hills, at mile marker 7.28. We will be pouring verticals and horizontals of Fiddlestix Vineyard Pinot Noir. After all, it's all about the place! Early-bird tickets are now on sale! www.fiddleheadcellars.com.
This event is sure to be a sell out again this year.
Early-bird tickets discount prices until June 10 at 7:28 am:
Wine Club members $72.80
General Admission $85.00
General Admissions Couples Price $150.00 (for 2 tickets)
Designated Driver Tickets: $50.00
Starting June 10 at 7:29 am prices go up:
Wine Club Members $85.00
General Admission ticket price $100.00
General Admissions Couples Price $180.00 (for 2 tickets)
Must be 21+ years to attend, with ID
Limited tickets may be available at the door – $120.00
Date: Sunday, July 28 (12-4 pm)
Address: 1221 State St #205, Santa Barbara, CA 93101
Phone: 805.735.7728
How to book:  http://www.fiddleheadcellars.com/upcoming-events–tickets.html
Tickets are non-refundable after June 11, 2019